Pithecanthropus Centennial Commemoration with an International Conference and Exhibition in Leiden, The Netherlands
In 1993, Prof.Dr. L.J. Slikkerveer was appointed as Chairman of the Pithecanthropus Centennial Foundation, commemorating the centenary of the discovery of 'Java Man' (Pithecanthropus erectus) by Eugène Dubois in 1893 in Trinil, Java, Indonesia with an International Conference at Leiden University on Human Evolution in its Ecological Context and an Exhibition Man-Ape/Ape-Man in the Pesthuis of the Museum of Natural History in Leiden, The Netherlands.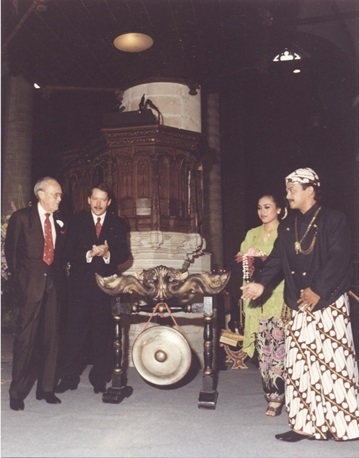 The Foundation encompassed the cooperation between the LEAD Programme of Leiden University, The Netherlands, the Museum for Natural History in Leiden, The Netherlands, the Geological Survey of The Netherlands in Haarlem, and Universitas Padjadjaran in Bandung, Indonesia.
Several major events in Leiden commemorated the remarkable discovery of the 19th Century for the Missing Link between humans and apes, not only in Dubois' provision of tangible evidence of a common ancestor in prehistory, but also to show that humans are a part of nature, and not apart from nature.
The official Opening was performed in the Pieterskerk in Leiden by H.R.H. Prince Bernhard of The Netherlands, and the Keynote Speech was given by Dr. Jane Goodall from Tanzania, attended by more than 1200 participants and guests from all over the world.