VVI Research Meetings 2023-2024
The policing of interracialized sex in France (1954-1979)
Date

Wednesday 1 November 2023

Time

Location

Room

C0.22
In collaboration with The Leiden Interdisciplinary Migration Seminars (LIMS)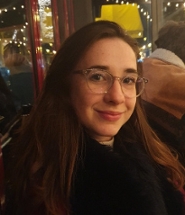 In this presentation I explore whether and how interracialized intimacies between (post)colonial immigrants and white French people were regulated in France during and in the wake of decolonization (1954-1979). In particular, I look at the policing practices that targeted sexual practices of (post)colonial North African migrants, and how this was connected to the organization and racialization of urban spaces that necessitated selective surveillance and policing. By analyzing the construction of 'zones of degeneracy', I argue that certain neighborhoods were constructed as anomalous zones where different social and legal conventions applied, and in doing so, police could enforce morality legislation in ways that protected a heteronormative and racialized sexual order.

About Rébecca Franco
Rébecca Franco is a postdoctoral researcher in the project "The Platformization of the Sex Industry" at the Sociology Department of the University of Amsterdam, where she researches how commercial webcamming and erotic content creation is regulated. Previously, she completed a PhD dissertation at the VU University on the regulation of interracialized intimacies in the context of migration and decolonization in France. Her research focus more broadly revolves around the regulation of sex and intimacy.

About Andrew Shield
Andrew Shield is Assistant Professor of Migration History at Leiden University, where he coordinates research on queer archives for ITHACA: Interconnecting Histories and Archives for Migrant Agency (funded by Horizon2020).
LIMS
The Leiden Interdisciplinary Migration Seminars (LIMS) aim at fostering further discussion across disciplines on migration-related topics and creating an open dialogue between the speakers and the attendees. The seminars are a platform for those at Leiden University working on migration-related topics.