Study information
Speeddate Humanities
Date

Friday 9 June 2023

Time

Location

TEAMS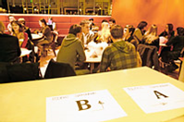 Are you a prospective first-year student for one of the following programmes:
African Languages and Cultures
German Language and Culture
French Language and Culture
Italian Language and Culture
Classics
International Studies
Japanese Studies
Korean Studies
Latin American Studies
Middle Eastern Studies
Religious Studies
Russian Studies
South and Southeast Asian Studies
Urban Studies

Ancient Cultures of the Mediterrean World
and do you have any questions about the programme of your choice? Join the speed date of the Faculty of Humanities on 9 June. You are also welcome to participate if you are still unsure about your choice of study. Were you invited in response to the survey you completed? Then it is very crucial to make an appointment for a Teams meeting!
If your survey results leads to any uncertainties, you will receive a personal invitation from the Study adviser for the Teams speed date.
You can register online after 13 April and schedule a speed date with the Study adviser of your study programme. Don't forget to include your mail adress when making the appointment.
Contact
Do you have any questions? Please don't hesistate to contact us via email: speeddate@hum.leidenuniv.nl.