Conference
Bantu Syntax and Information Structure Conference
Date

Thursday 8 June 2023 - Friday 9 June 2023

Location

hybrid (physical + online)
In celebration of the conclusion of the Bantu Syntax and Information Structure (BaSIS) project, running at Leiden University from 2017 – 2023, there will be a 2-day conference organised in Leiden on 8 th and 9th June 2023 in hybrid (physical + online) format. BaSIS is a collaborative research project involving the following team members and languages, investigating the influence of information structure on Bantu morphosyntax:
Elisabeth Kerr (Tunen, Cameroon A44; Leiden University)
Zhen Li (Teke-Kukuya, Congo B77a; Leiden University)
Ernest Nshemezimana (Kirundi, Burundi JD62; Université de Burundi)
Patrick Njue Kanampiu (Kîîtharaka, Kenya E54; University of Edinburgh)
Allen Asiimwe (Rukiga, Uganda JE14; Makerere University)
Amani Lusekelo (Kinyakyusa, Tanzania M31; Dar es Salaam University College of Education)
Jenneke van der Wal (Makhuwa, Mozambique P31; Leiden University) (PI)
the late Aurélio Simango (Changana, Mozambique S53; Universidade Eduardo Mondlane)
Nelsa João Nhantumbo (Cicopi, Mozambique S61; Universidade Eduardo Mondlane)
Invited speaker: Michael Diercks, Pomona College
Call for papers
In addition to the BaSIS project members presenting the results of their research, we warmly invite other presentations related to information structure in Bantu. Topics of interest include but are not limited to:
How is information structure expressed in Bantu languages?
Where is information structure in the grammar?
Formal analyses of Bantu syntax/information structure
Field methods for the investigation of syntax and information structure
The interaction between information structure and prosody
Comparative aspects of information structure between Bantu and other languages
The status (and revision?) of notions in information structure
Please submit your 1-page abstracts by 23rd December by emailing them to BaSISconference@hum.leidenuniv.nl. Decisions will be sent out by 16th January.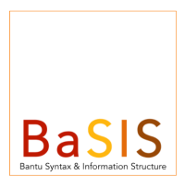 There is no fee for participation - the conference is funded by the NWO Vidi grant.
For further questions, please contact Jenneke van der Wal.
We look forward to seeing you in Leiden/online!