Resisters and protesters
One of the stained glass windows in the Great Auditorium of the Academy Building is dedicated to the students and staff of Leiden University who resisted, protested against, or became victims of the German occupiers. It depicts female figures alongside male ones.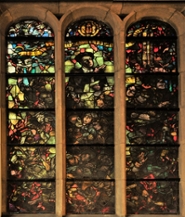 While they are not presenting specific people, could they have been inspired by leading ladies in war-time resistance and protest?
There are at least two famous female resisters from the Leiden University. Graduate student Ms. Henriëtte Roosenburg has worked at resistance publications and organisations. She has also worked together with another female student Ms. Els Boon with the secret transfer of the Allied pilots. After the war, Boon became the president of female student organisation VVSL.
The central male figure on the window who dressed like a professor was also not named. However, an easy association could be made with the most well-known moment in Leiden University's resistance – Dr. Rudolph Pabus Cleveringa's (1894 – 1980) speech on November 26, 1940. What might be less well-known is the contribution of female figures to his speech. The day before the speech took place, Cleveringa had read his notes to his wife, Hiltje Boschloo-Cleveringa (1898 – 1988). Well aware of the danger, she supported him as he believed it was his duty. A.H. Vermeulen (date of birth unknown), who was a part of the LSCC (Leiden Student Contact Committee) as representative of the VVSL, reached an agreement with Cleveringa to mention the student's protest against the anti-Jewish actions at the university in his lecture.
Another form of protest also took place. Caroline van Loen, a Jewish employee at the University Library, wrote a letter to the university to express her disappointment of being forced to resign as Jewish students and faculty members were banned from working at Leiden University in 1940. A digital reproduction of her letter is openly accessible at the website of the online Joods Monument. She did not survive the war.