Arts and leisure - Visual arts
Chinese Calligraphy for everybody
Wednesday from 15:30-17:30 h
Teacher

Cara Yuan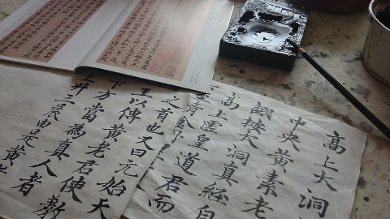 For whom
All levels. Mimimum age: 17.

Content
The oldest known annals of Chinese history were written in calligraphy. Chinese calligraphy is thus as old as the Chinese writing system. Calligraphy is an important part of China's cultural heritage and is seen as one of the most important art forms. Due to the spread of China's influence in the world, Chinese calligraphy is now part of other country's cultures as well, such as Japan, Korea, Taiwan, and Vietnam. In 2009, UNESCO included Chinese calligraphy in the Representative List of the Intangible Cultural Heritage of Humanity.
The tools calligraphers use, define Chine calligraphy as an art. The 'Four Treasures' of Calligraphy are: the paintbrush, ink, paper, and inkstone. With these tools, you'll gradually learn the basic techniques and rules of Chinese calligraphy, which you will use both in class and at home while practicing. Apart from being an art form, Chinese calligraphy is also a form of meditation, soothing the mind and spirit.

Materials are present during the lessons. For at home you have to buy materials yourself. You can askyour teacher for advise.
Teacher
Cara Yuan, an experienced and enthusiastic teacher, is an established Chinese calligrapher. Her work was already exhibited in China and Japan before she had reached the age of 20. Due to her vast experience in teaching Chinese calligraphy, Cara Yuan will create a comfortable atmosphere in which you can learn the ins and outs of this art. All participants will get personal assistance and the opportunity to fulfill their own wishes within this course.
Cara Yuan was born and raised in China. Her father is an artist, specialized in Chinese painting. Her grandfather was a Chinese calligrapher. In 1998, Cara moved to the Netherlands to study at the Amsterdam University of the Arts and become a teacher. She has been teaching Chinese calligraphy since 1999.
Isn't the registration link working? Please contact the LAK via info@lakcursussen.nl or t: 071-5272317
Anyone who registers for a LAK course, thereby agrees to the LAK terms and conditions.

Register on time! A course can only start with enough participants (this will be decided a week before the start).