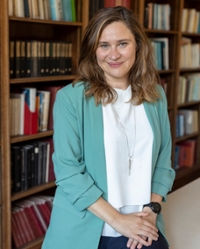 Zsuzsa Bakk
Assistant professor
Name

Dr. Z. Bakk

Telephone

E-mail

ORCID iD
Zsuzsa Bakk is Assistant Professor (UD) at the unit Methodology & Statistics of the Institute of Psychology at Leiden University. Her main research interests are in latent variable modeling and survey methodology.
Zsuzsa has a diverse background, having worked next to academia also in business as HR analytics data scientist at Shell, and as Educational Policy advisor at OECD supporting the methodological work around the PISA project family. She is fascinated by bringing academic and applied knowledge closer.
Zsuzsa obtained a BA degree in Sociology at Babes Bolyai University in Romania (2004), and MA degree in HRM (2006) from the same university. After working for a few years in HR consulting for the NGO sector she followed the Research Master program in Methodology & Statistics, at Tilburg university. Following she did her PhD at Tilburg University focusing on the development of stepwise approaches to latent class modeling. The defense of her dissertation "Contributions to bias adjusted stepwise latent class analysis" took place in October 2015. Her PhD thesis was awarded the Distinguished Dissertation Award, by the North American Classification Society, 2016
Zsuzsa teaches a course on latent variable models, coordinates the course Academic skills tutorial, is a lecturer and tutor for the first year bachelors course Experimental and Correlational Research, and also tutor for the bachelor course Perspectives on career planning.
Zsuzsa is interested in cooperation bringing academic and applied (policy oriented) research closer.
Assistant professor
Faculteit der Sociale Wetenschappen
Instituut Psychologie
Methodologie & Statistiek
Associate Editor Behavior Research Methods