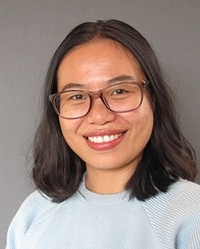 Tinh Le
Name

T.T.T. Le

Telephone

E-mail

ORCID iD
Tinh Lê was a lecturer in Education Science and Philology at the University of Da Nang (Vietnam) before she came Leiden as a PhD student at ICLON.
She now explores the research topic 'Democracy in Education in Communist countries: The perspective of teacher students and pupils in Vietnam' under the instruction of prof.dr. W.F. Admiraal and dr. E.H. Tigelaar.
She has 5 years experience in teaching Vietnamese as a second language and training student teachers.
Work address
Willem Einthoven
Kolffpad 1
2333 BN Leiden
Room number B4.13
Contact