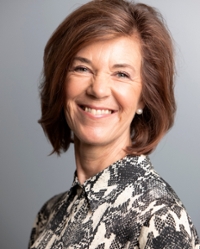 Tineke Abma
Professor by Special Appointment Participation by the elderly
Name

Prof.dr. T.A. Abma

Telephone

E-mail
Tineke Abma is Professor of Participation of Older People at the department of Public Health and Primary Care at the Leiden University Medical Centre (LUMC). She is also Executive Director of knowledge institute Leyden Academy on Vitality and Ageing. Tineke Abma is member of the Scientific Council of Institute GAK, and chair of the Waardenwerk (Ethics Work) foundation.
More information about Tineke Abma
Participation of Older People
The chair Participation of Older People is embedded at the department of Public Health and Primary Care of the LUMC. Tineke Abma leads research aiming to strengthen the position of older people and patients in healthcare, policy and scientific research. With special attention to the inclusion and social participation of people in a vulnerable situation.
Tineke Abma argues for an approach to participation based on connectedness and mutual dependence: after all, everyone wants to contribute and feel included. With her participatory action research, she aims to contribute to the participation and quality of life of clients and older people, so that they can fully participate in society and so that facilities, such as healthcare and welfare, better match their needs and desires. Dialogue and deliberation, between older people and with other parties such as researchers and healthcare professionals, are crucial to gain insight into what really matters to people.
Academic career
Tineke Abma was trained as a nurse and obtained her doctorate in 1996 in Health Policy and Management at Erasmus University Rotterdam. From 2002 to 2009, she worked as an associate professor at Maastricht University, after which she transferred to Amsterdam UMC (VUmc) where she was appointed as Endowed Professor of Client Participation in Elderly Care. From September 2010 to November 2021, she was Full Professor of Participation & Diversity in Amsterdam at the Department of Ethics, Law & Medical Humanities. In 2014, she co-founded the Centre for Client Experiences. She is also the founder of the School for Participation. Since December 2019, she is Executive Director of knowledge institute Leyden Academy on Vitality and Ageing.
Tineke Abma supervised more than thirty PhDs and, in addition to more than 150 international scientific articles (H-index 40), published the books Zeggenschap in Wetenschap (Democratic Participation in Science) (2007), Herinneringen en dromen van zeggenschap. Cliëntenparticipatie in de ouderenzorg (Memories and Dreams of Democracy, Participation in Elderly Care) (2010) and the international handbook Participatory Research for Health and Social Well-Being (2019). Her work was recognized in 2007 with the Crebolder Award for Societal Impact. In 2013, she was awarded a prestigious ASPASIA laureate from NWO.
Professor by Special Appointment Participation by the elderly
Faculteit Geneeskunde
Divisie 3
Public Health en Eerstelijnsgeneeskunde