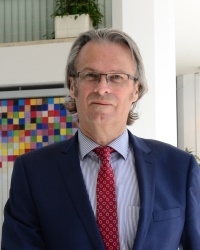 Rolf Oosterloo
Executive Director Faculty of Social Sciences / Portfolio holder Operations Campus The Hague
Name

Mr.drs. R.J. Oosterloo MPA

Telephone

E-mail
Rolf Oosterloo is responsible for management and administrative support, and for developing the organisation's priorities in operational areas.
Short CV
Rolf Oosterloo (1957) studied Law and subsequently Legal-Political Science at Leiden University. Thereafter, he obtained the postgraduate degree of Master of Public Administration at the Netherlands School of Public Administration (NSOB).

He has held various positions in secondary and higher education, including policy and management positions at Leiden University (including Campus The Hague), Utrecht University and Delft University of Technology, as well as at the Dutch Ministry of Education, Culture and Science.
Executive Director Faculty of Social Sciences / Portfolio holder Operations Campus The Hague
Faculteit der Sociale Wetenschappen
Faculteitsbureau
Faculteitsbestuur
Work address
Pieter de la Court
Wassenaarseweg 52
2333 AK Leiden
Room number 4C.07
Contact
No relevant ancillary activities