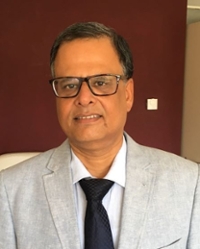 Pralay Kanungo
University lecturer
Name

Dr. P.R. Kanungo Ph.D.

Telephone

E-mail
Research Expertise
Religion, Culture and Politics: Hindu Nationalism (ideology/everyday practice/mobilisation/regional variations/ethnography at the grassroots)

Indian Politics: Ideas and Institutions, Processes and Policies, Electoral and Party Politics

Religion, Urbanity and Heritage

Indian/Hindu Diaspora

Indigenous Communities: Cultural/Political Mobilisation and Development

Vision: critical thinking beyond disciplines and frontiers
Fields of interest
Religion and Politics

Hindu Nationalism

Indian Politics

Religion and Urbanity

Political Anthropology

India-China connection and Comparison: Civilizational and Contemporary
Research
My research explores the entanglement of religion and politics through the prism of Hindu Nationalism. Being inter-disciplinary, comparative and ethnographic, this research attempts to explain the process and outcome of the interplay of ideology and practice.
Teaching activities and supervision
Long experience in teaching, research and research supervision in India and Europe. Teaching Bachelor's and Master's Courses and supervising Master's and Doctoral theses at Leiden University since 2013.
Curriculum Vitae
Professor Pralay Kanungo is currently Fellow at Max-Weber-Kolleg, Erfurt University (2018-2019) and Guest Professor at Sichuan University, Chengdu (2015-2020). He was Professor/ICCR Chair of Contemporary India Studies at LIAS/IIAS, Leiden University (2013-2018) and Honorary Professor at Australian Catholic University, Melbourne (2015-2018). Before coming to Leiden University, he was Professor and Chair, Centre for Political Studies, Jawaharlal Nehru University, New Delhi, a Fellow at Nehru Memorial Museum and Library, New Delhi and Visiting Professor at Maison des Sciences De L'Homme, Paris.
Kanungo is the author of RSS's Tryst with Politics: From Hedgewar to Sudarshan (2002) and co-edited The Algebra of Welfare-Warfare (OUP, 2019) Cultural Entrenchment of Hindutva (Routledge, 2011), Public Hinduisms (Sage, 2012) and The Politics of Ethnicity in India, Nepal and China (Primus, 2014).
Grants and awards
Principal Indian Investigator of Indian-European Social Sciences Research Networking Project (2013-2016).
Key publications
Book
RSS's Tryst with Politics: From Hedgewar to Sudarshan, Manohar, Delhi, 2002.
Edited Book
Public Hinduisms (with John Zavos, Deepa Reddy, Maya Warrier and Raymond Williams), Sage, 2012.
Book Chapter
'Marginalised in a Syncretic City: Muslims in Cuttack', in Laurent Gayer and Christophe Jaffrelot (eds.), Muslims in Indian Cities: Trajectories of Marginalisation, Hurst, 2012; 237-61
Journal Articles
'Carving out a White Marble Deity from a Rugged Black Stone?: Hindutva Rehabilitates Ramayana's Shabari in a Temple'[co-authored], International Journal of Hindu Studies, 13,3, 2010; 279-99.
'Hindutva Combats Christianity in Orissa', Purusartha (EHESS, Paris), 30, February 2012; 215-39.
University lecturer
Faculty of Humanities
Leiden Institute for Area Studies
SAS India en Tibet
No relevant ancillary activities