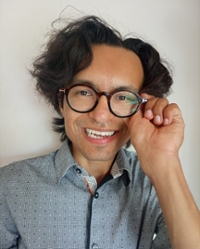 Pouwel van Schooten
PhD candidate
Name

P.S. van Schooten MA

Telephone

E-mail
Research
Why is slavery in Sri Lanka, once a crucial nodal point of Dutch slave trade activities in the Indian Ocean, largely forgotten nowadays? My PhD-research, part of the larger Forgotten Lineages project, delves into this question. The sub-project, titled 'Hidden Others. Transitioning from Slavery to Freedom in the Galle Province (1650-1750)' uses forgetting as a way of understanding the multiple procedures that allowed pre-Dutch forced migrants and more recent enslaved people to become 'local' in premodern Galle, and gradually forget their past of enslavement. As the first Sri Lankan port under Dutch control after 1640, Galle and its surrounding area are uniquely placed to find life traces of freed slaves and their descendants with Portuguese and Dutch links.
This PhD is part of the larger research project 'Forgotten Lineages. Afterlives of Dutch Slavery in the Indian Ocean World'.
Curriculum Vitae
During my studies at the University of Amsterdam (BA and ReMA in History) I became fascinated with colonialism and its impact on the world at large, both nowadays and in the past. For my Master thesis I studied the Dutch reception of Raynal's Histoire des deux Indes (1770-1780), focusing on the question whether the eighteenth-century Dutch took its perceived anticolonial criticism seriously. After leaving university I continued working on these themes: I helped with the creation of a textbook on colonial sources for BA students; guided authors as editorial-assistant for the journal Itinerario. Journal of Imperial and Global Interactions; and assisted in the creation of the exhibition Onze Koloniale Erfenis (Our Colonial Inheritance) at the Tropenmuseum in Amsterdam. For this last project I was tasked with finding names of enslaved people in Asia during the Dutch colonial period. During the research it became abundantly clear how slavery in Asia had been largely forgotten, both by its people and former European powers. It is this issue I hope to investigate in my PhD-research.
Publications
With Maaike de Jongh, 'Voorbij l'art pour l'art. Interview met Annelien de Dijn', Skript Historisch Tijdschrift 41.2 (2019) 156-164.
'Genuanceerd slavernijverleden? Review of Jeroen Dewulf's Grijs slavernijverleden? Over zwarte milities en redimoesoegedrag', Skript Historisch Tijdschrift 40.3 (2018) 233-235.
With Rosa de Jong, 'Onder het asfalt van de moderniteit liggen de karrensporen van de negentiende eeuw. Interview with Beatrice de Graaf', Skript Historisch Tijdschrift 40.3 (2018) 213-221.
With Rosa de Jong, 'Voorbij goed en fout dankzij liminaliteit. Interview with Ismee Tames', Skript Historisch Tijdschrift 40.1 (2018), 57-84.
' ''Een stok om de jezuïeten mee te slaan'': het ambivalente beeld van China in de zeventiende-eeuwse Republiek. Interview with Trude Dijkstra', Skript Historisch Tijdschrift 39.4 (2017), 317-320.
'De chaos van imperialisme. Review of Jon Wilson's India Conquered: Britain's Raj and the Chaos of Empire', Skript Historisch Tijdschrift 39. 1 (2017), 81-83.
'Bourgeois Venus Subversion in Boijmans van Beuningen: Collection Surrealism (Too) Innocent', Peer: Paper Matters 1.1 (2016), 26-27.
PhD candidate
Faculty of Humanities
Leiden Institute for Area Studies
SAS India en Tibet
No relevant ancillary activities