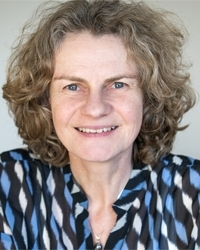 Monique van Leerdam
Professor Gastroenterology and Hepatology
Name

Prof. M.E. van Leerdam MD

Telephone

E-mail
Monique van Leerdam is professor in the Gastoenterology, specialized in the prevention of hereditary tumors at the Leiden University Medical Center (LUMC) in Leiden. She is senior staff member of the department of Gastroenterology and Hepatology at the LUMC and head of the department of Gastrointestinal Oncology at the Netherlands Cancer Institute in Amsterdam. In addition, she is medical director of the Dutch Foundation for Detection of Hereditary Tumors (StOET) in Leiden. She is involved in several working groups from the Dutch Association for Gastroenterologists, the Dutch National Institute for Public Health and Environment and several European organizations, focusing on quality of care and early detection of gastrointestinal cancers
Gastroenterology and hereditary tumors
The gastrointestinal tract is an important organ which is involved in many diseases. Gastrointestinal cancer does frequently occur and is an important disease leading to high morbidity and mortality rates. Cancer can be sporadic, but can also occur in more than one family member. If there is a strong history of cancer in the family, it is important to evaluate the presence of a hereditary cancer syndrome. In case of hereditary cancer syndrome, there is an error in the DNA of one of the parents, which can be transmitted from parent to child and lead to early cancer development. For families with hereditary cancer surveillance is important in order to detect cancer at an early stage or prevent the development of cancer by removing benign precursor lesions.
Identification of individuals with a familial or hereditary cancer syndrome is of utmost importance. Information about the syndrome, early signs of cancer and surveillance can prevent morbidity and mortality from cancer. This information is important for patients, family members, general practitioners and medical specialists. Improving the techniques and quality of our procedures (endoscopies or MRIs) is a continuing topic of our research. We are currently evaluating specific (tumor-)markers in blood and feces for surveillance.
On the department of Gastroenterology and Hepatology there are several prospective studies for individuals with CDKN2A mutation and a high risk of pancreatic cancer, for individuals with Lynch syndrome and a high risk of colorectal cancer, for individuals with FAP/MAP and other polyps syndromes with a risk of small bowel cancer, stomach cancer and colorectal cancer.
Early detection of colorectal cancer is also important for the general population. In 2014 the nationwide colorectal screening program has started. A national team of experts continuously evaluates and improves this CRC screening program in order to achieve an optimal program.
Academic career
Monique van Leerdam did follow her Bachelor and Masters in Medicine at the VU Medical Center in Amsterdam. In 1998 she started with her PhD program at the University of Amsterdam and graduated in 2003. The title of her thesis was 'the continuing story of peptic ulcer bleeding'. She was resident Gastroenterology and Hepatology in the Ikazia hospital and Erasmus Medical Center in Rotterdam. From 2007 until 2011 she was staff member at the department of Gastroenterology and Hepatology at the Erasmus Medical Center in Rotterdam where she further specialized in the gastrointestinal oncology. She did a Masters in Clinical Epidemiology. From 2008-2009 she received a fellowship from the Dutch Cancer Foundation. In 2011 she moved to the Netherlands Cancer Institute in Amsterdam for further specialization in the gastrointestinal oncology. In 2015 she became head of the department of Gastrointestinal Oncology. Since July 2020 she has a position in the Leiden University Medical Center as professor in the Gastroenterology specialized in the prevention of hereditary tumors.
Professor Gastroenterology and Hepatology
Faculteit Geneeskunde
Divisie 2
Maag-, Darm- en Leverziekten
Lid van de Nederlandse darmkanker bevolkingsonderzoek Redactie raad
Lid van de Nederlandse richtlijn werkgroep coloscopie surveillance
Lid van de Nederlandse richtlijn werkgroep erfelijk darmkanker
Lid van de Nederlandse darmkankerbevolkingsonderzoelk werkgroep voor Monitoring en Informatie
Medisch Directeur