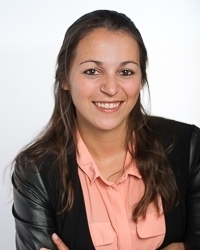 Michelle Achterberg
Postdoc
Name

Dr. M. Achterberg

Telephone

E-mail
Short CV
Michelle Achterberg is a PhD candidate at the Developmental and Educational Psychology Unit of Leiden University's Institute of Psychology.
Michelle completed her master in Neuroscience & Cognition at Utrecht University in 2014. During the first year of her master program, Michelle worked in the department of child psychiatry at the UMC Utrecht, where she studied structural brain connectivity in children with ADHD and Autism. During the second year of her studies she studied the development of resting state connectivity, at the Brain and Development lab.
In September 2014 Michelle started her PhD project at the Leiden Consortium on Indiviudal Development, which is part of the 'Consortium Individual Development' study funded by the gravitation grant of NWO. Under supervision of Eveline Crone, Marian Bakermans-Kranenburg and Anna van DUijvenvoorde, Michelle studies the development of behavioral control in childhood. Specifically, she focusses on the neural mechanisms of social evaluation and aggression regulation in childhood and emerging adolescence. Additionally, she is expanding her knowledge of functional and structural brain connectivity and investigates how brain development is influenced by genes and the environment.
For more information about her research project see Brain and Development Lab.
Teaching
School Psychology
Developmental and Educational Psychology
International Bachelor Pscyhology
Grants
2016 Ter Meulen Grant of the Royal Netherlands Academy of Arts and Sciences (KNAW). €3252,-
2016 LISF grant Leiden University Fund (€1000,-)
Awards
Supervisors
Relevante links
Leiden Psychology Blog
LinkedIn profile
Twitter profile
Research Gate profile
Consortium on Individual Development
Postdoc
Faculteit der Sociale Wetenschappen
Instituut Psychologie
Ontwikkelings- & Onderwijspsychologie
No relevant ancillary activities