Louis Verreth
PhD candidate
Name

L. Verreth

Telephone

E-mail

ORCID iD
Research
Louis Verreth has studied Classics and Italian Philology at KU Leuven. Since 2020 he has been working as a PhD candidate at Leiden University, where he studies the various uses of Antiquity in Neo-Latin verse panegyrics for Lorenzo de' Medici (1449-1492). To support research stays in Italy, he has received grants from the Royal Netherlands Institute in Rome (KNIR) and the Netherlands Institute for Art History in Florence (NIKI).
Louis is part of the editorial team of the peer-reviewed journal JOLCEL (Journal of Latin Cosmopolitanism and European Literatures) and of the LUCAS blog. In his capacity as ambassador of the Royal Netherlands Institute in Rome, he promotes the Institute's education and research activities at Leiden University and beyond.
PhD project (2020-2025): Claiming Ancient Rome's Heritage: Translatio imperii at the Court of Lorenzo de' Medici (1469-1492)
A key theme in late 15th-century culture was the comparison of Florence and the Medici with ancient Rome and its rulers. A point in case is Domenico Ghirlandaio's fresco "The Confirmation of the Rule" in the Sassetti Chapel, which famously sets a visit of Saint Francis to the Pope not in 13th-century Rome, but at Palazzo della Signoria, the political heart of contemporary Florence. Scholars have also recognized this theme in texts that circulated at the Medici court, and have rightly interpreted it as a way for Medici supporters to legitimize the family's unofficial rule. My doctoral dissertation aims to identify the various strategies which writers used to connect Medici Florence to Antiquity.
Francesco Filelfo, Rhetorica ad Alexandrum: Critical edition
Published by Edizioni dell'Orso (2022, with Jeroen De Keyser).
Francesco Filelfo's Latin rendering of the (pseudo-)Aristotelian Rhetorica ad Alexandrum was the first translation of any ancient Greek rhetorical treatise in the Quattrocento. It turned out to be the most successful and enduring of all of Filelfo's writings. Surviving in 32 manuscript witnesses, his translation would remain the standard Latin version for many centuries to come. No other work of Filelfo's has been in print for such a long time, from the editio princeps in 1483/84 to five other incunabulum editions and some forty sixteenth-century reprints, until its inclusion in the famous Aristotle edition by Immanuel Bekker. This edition of Filelfo's Rhetorica ad Alexandrum is the first one to be based on a comprehensive study of the text's transmission. It also offers, on facing pages, the Greek source text as Filelfo found it in his copy of the Greek treatise, allowing readers to grasp at a glance both Filelfo's rendering and its model, and to examine the humanist's translation practices and preferences throughout. Furthermore, it contains a bi-directional glossarium of all rhetorical terms and concepts that are used in the treatise.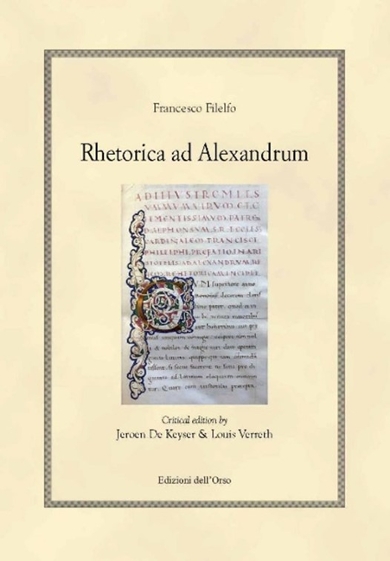 PhD candidate
Faculty of Humanities
Centre for the Arts in Society
Latijnse T&C
Work address
Arsenaal
Arsenaalstraat 1
2311 CT Leiden
Room number A0.32
Contact
No relevant ancillary activities