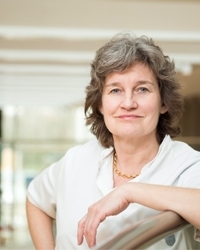 Johanneke Portielje
Professor Internal Medicine, in particular geriatric oncology
Name

Prof.dr. J.E.A. Portielje

Telephone

E-mail
Johanneke E.A. Portielje is professor of medical oncology, with research focus on geriatric oncology. She is chair of the Dutch foundation of Geriatric Oncology (Gerionne).
More information about Johanneke Portielje
Geriatric Oncology
Geriatric oncology studies the diagnosis and treatment of cancer in elderly patients.
It is a relatively new field of research that has developed as a consequence of the aging of developed societies and the resultant sharp increase of elderly patients in oncology practice in combination with the notion that treatment of elderly patients needs urgent improvement.
Research of cancer treatments traditionally has had a focus on younger and healthier patients, resulting in lack of data to adequately guide treatment of older patients.
The research of the geriatric oncology group in the LUMC addresses the predictive characteristics that may distinguish those older patients most likely to benefit from a given treatment from those who will not and the mechanisms that determine age differences in cancer development and treatment.
Academic career
After graduation from the Leiden University Medical School (LUMC), Johanneke Portielje was trained in internal medicine (LUMC / HMC Westeinde) and oncology (Daniel den Hoed Cancer Clinic / Erasmus MC Rotterdam) and wrote her thesis on Interleukin 12 in renal cancer patients (2002). She subsequently practiced oncology in the Hagaziekenhuis in The Hague.
She made a transfer to the LUMC in 2017 and held her inaugural lecture titled "Searching for subtlety" on geriatric oncology on September the 18th 2017.
Professor Internal Medicine, in particular geriatric oncology
Faculteit Geneeskunde
Divisie 4
Klinische Oncologie
No relevant ancillary activities