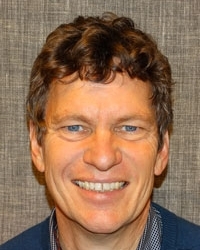 Harry Wels
Associate Professor African Organisational Anthropology
Name

Dr. H. Wels

Telephone

E-mail
For an overview of Harry Wels' research and publications, visit his profile on the ASCL website.
Harry Wels is the Publications Manager of the African Studies Centre Leiden. He was trained as an organizational anthropologist.
His research is primarily focused on South and Southern Africa and is about organizational structures of cooperation in the context of nature conservation and touches and relates to broader issues in animal studies.
Since May 2014 Harry is Professor (extraordinary) at the University of the Western Cape in South Africa, Department of Geography and Environmental Studies.
Associate Professor African Organisational Anthropology
Afrika-Studiecentrum
Wetenschappelijke staf
Bestuurslid
Algemeen Bestuurslid
Voorzitter
Universitair Hoofddocent