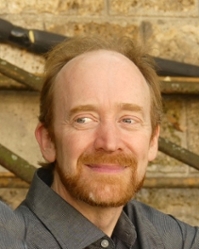 Guy Livingston
PhD candidate / guest
Name

G.P. Livingston

Telephone

E-mail
Guy Livingston is a visiting PhD Candidate at the Academy of Creative and Performing Arts.
CV
Pianist Guy Livingston has performed all over the world, notably as soloist with the Chicago Symphony, the Orchestre Nationale de France, and as a recitalist at the Centre Pompidou, Théâtre du Chatelet, the Library of Congress, The Knitting Factory, and Lincoln Center.

His performance projects have been featured in Sports Illustrated, The New York Times, Le Monde, Gramophone, The Wall Street Journal, and BBC Magazine.

Livingston has produced radio features for Australian Broadcasting and Irish RTé Radio, and hosts a weekly podcast, "The Bug", which is broadcast from a former embassy in The Hague.

He has lectured at Princeton University, Harvard University, and the European Space Agency. Livingston holds degrees from Yale University, the New England Conservatory of Music, and the Royal Conservatory of the Netherlands.
-Koninklijk Conservatorium (Den Haag) Uitvoerende Musicus in contemporary music, 1997.
-New England Conservatory of Music (Boston) Masters of Music in piano, 1991.
-Yale University (New Haven) Bachelor of Arts cum laude, 1988.
Grants and Awards
-New York Festival International Radio Awards (bronze medal 2018, silver medal 2019)
-Kurt Weill Foundation grant 2018
-Aaron Copland Fund grant 2014 and 2017
Research
Since silence in music is not really silent, how do we know it's supposed to be silent? I'm proposing that in many performance situations, the markers for silence are possibly more important than the silence itself. Perhaps these markers could be divided into three categories: visual, architectural, and musical.
Ancillary Activities
Guy Livingston is artistic director of Stichting Transatlantic, based in The Hague.
He also creates periodic audio productions including "The Bug" (a podcast on iTunes/Spotify/GooglePodcasts) and "American Highways" (radio show on ConcertZender).
PhD candidate / guest
Faculty of Humanities
Academie der Kunsten
No relevant ancillary activities