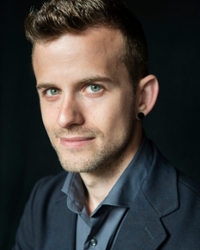 Francesco Walker
Assistant Professor
Name

Dr. F. Walker

Telephone

E-mail
Francesco Walker has a Masters Degree in cognitive neuropsychology from VU Amsterdam. In 2015, he developed a proposal to study the link between eye-movement behaviour and visitor perceptions of art in a museum setting. The resulting collaboration with the Van Gogh Museum Amsterdam produced the first ever analysis of the very different attentional strategies used by adults and children, when viewing paintings in an actual museum. Francesco conducted his PhD studies at University of Twente. Here, he investigated human interactions with automated vehicles, with a focus on how these interactions affect driver trust and how this can be measured objectively and improved. Francesco defended his PhD in 2021, with a dissertation titled "To trust or not to trust? Assessment and calibration of driver trust in automated vehicles". Before joining the Cognitive Psychology Unit of Leiden University in 2021, Francesco worked briefly as a lecturer in the department of Cognitive Psychology and Ergonomics of the University of Twente.
More information about Francesco Walker
Research
Francesco's research focuses on Human Factors challenges in the design of automated vehicles. Key themes include trust in automation, vehicle interactions with vulnerable road users and new solutions for Human-Machine-Interfaces. In parallel with this work, he maintains a deep interest in art perception and neuroaesthetics.
Teaching
In the Cognitive Psychology Unit of Leiden University, Francesco coordinates the Applied Cognitive Psychology Master track, and the Bachelor's course in Applied Cognitive Psychology. He also teaches several courses related to applied cognition and Human Factors, at the bachelor's and master's level.
Awards
Award for Best Poster 2018 (6th BMW Summer School: Emotion Aware Vehicle Assistants, Raitenhaslach, Germany).

Award for Best Presenter 2018 (6th Humanist Conference, Den Haag, The Netherlands).

The Robert Francès Award: Most Outstanding Student Research Contribution 2016 (24th IAEA Congress of Empirical Aesthetics, Vienna, Austria).

Vrije Universiteit Amsterdam Research Fellowship 2014/2015, awarded by Prof. Jan Theeuwes: 10000 euro.
Working days
Monday to Friday.
Assistant Professor
Faculteit der Sociale Wetenschappen
Instituut Psychologie
Cognitieve Psychologie