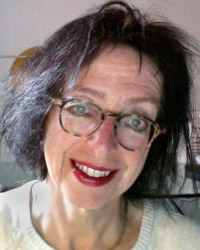 Florike Egmond
Guest researcher
Name

Dr. M.F. Egmond

Telephone

E-mail

ORCID iD
Florike Egmond is a researcher at the Leiden University Centre for the Arts in Society.
Fields of interest
NWO project: Carolus Clusius and sixteenth-century botany in the context of the new cultural history of science.
Research
Inspired by historical anthropology and microhistory, my research in the period 1980 to 1995 focused mainly on the history of crime, punishment, marginality, honour and violence. Since then I have moved from networks of criminals and lawyers to those of experts in natural history, at the same time going backwards in time from the 18th to the 16th century. My present research concentrates on the European history of Renaissance natural history (as well as medicine and pharmacology), with a special emphasis on the combination of visual and textual information in botany and zoology, the European exchange networks of experts in these fields, naturalia in the history of collecting, styles of patronage by both individuals and institutions (such as courts and universities), and the contribution of non-university trained experts to the formation of natural history as a discipline during the period 1530-1630. The cultural analysis of the correspondence and European networks of correspondents of the eminent 16th-century botanist Carolus Clusius is my main research project for the period 2002-2010.
Publications
Correspondence and Cultural Exchange in Early Modern Europe, edited by Francisco Bethencourt and Florike Egmond (Cambridge UP, winter 2006-07)

Carolus Clusius. Towards a cultural history of a Renaissance naturalist, edited by Florike Egmond, Paul Hoftijzer and Robert Visser (Edita, Amsterdam, winter 2006-07)

Egmond, M.F., Clusius, Cluyt, Saint Omer. The origins of the sixteenth-century botanical and zoological watercolours in Libri Picturati A. 16-30. Nuncius : annali di storia della scienza, XX, (2005), pp. 11-67

Het Visboek. De wereld volgens Adriaen Coenen (Walburg Pers, Zutphen, 2005)

The Whale Book. Whales and other marine animals as described by Adriaen Coenen in 1585, edited and with an introduction by Florike Egmond and Peter Mason (Reaktion Press, London, 2003)

Het Walvisboek. Walvissen en andere zeewezen beschreven door Adriaen Coenen in 1585. (Walburg Pers, Zutphen)

Bodily Extremities. Preoccupations with the Human Body in Early Modern European Culture, edited by Florike Egmond & Robert Zwijnenberg (Ashgate, Aldershot, 2003)

Kometen, monsters en muilezels: natuurbeelden en natuurwetenschappen in de zeventiende eeuw, edited by Florike Egmond, Eric Jorink and Rienk Vermij (Arcadia, Haarlem, 1999).

Florike Egmond & Peter Mason: The Mammoth and the Mouse. Microhistory and Morphology (Johns Hopkins, Baltimore & London, 1997)

Of bidden helpt? Tegenslag en cultuur in Europa, circa 1500-2000, edited by Marijke Gijswijt-Hofstra & Florike Egmond (Amsterdam University Press, Amsterdam, 1997)

Underworlds. Organized Crime in the Netherlands, 1650-1800 (Polity Press, Cambridge, 1993)
Guest researcher
Faculty of Humanities
Centre for the Arts in Society
Franse L&C
Work address
Arsenaal
Arsenaalstraat 1
2311 CT Leiden
Contact
No relevant ancillary activities