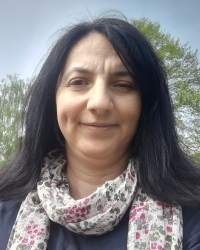 DEVRIM Kabasakal Badamchi-
Lecturer
Name

Dr. D. Kabasakal Badamchi-

Telephone

E-mail
Devrim Kabasakal Badamchi is a lecturer at the Institute of Political Science.
Dr. Devrim Kabasakal Badamchi earned her bachelor's degree from Ankara University in 2000, her master's degree from Middle East Technical University in 2002 and her PhD from Luiss Guido Carli University in Italy in 2009. She held teaching and research positions in Turkey and England. Since July 2020, she has been teaching at the Department of Political Science, Leiden University.
Her research falls within the field of contemporary political theory with a focus on liberalism. She specializes on the topics such as free speech, hate speech, toleration, multiculturalism and pluralism. Dr. Badamchi has published articles in various peer reviewed journals including Turkish Studies and Philosophy and Social Criticism. She is the author of the forthcoming manuscript titled "Dimensions of Free Speech: An Exploration of a New Theoretical Framework" by Springer.
Lecturer
Faculteit der Sociale Wetenschappen
Instituut Politieke Wetenschap
No relevant ancillary activities