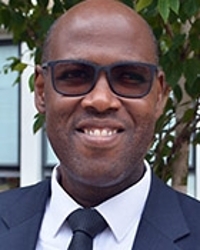 Chibuike Uche
Professor governance of finance and integrity in Africa
Name

Prof.dr. C.U. Uche

Telephone

E-mail

ORCID iD
For an overview of Chibuike Uche's research and publications, visit his profile on the ASCL website.
Professor Chibuike Uche is the chairholder of the Stephen Ellis Chair for the Governance of Finance and Integrity in Africa. He has extensive research experience in Nigeria, Ghana and Sierra Leone in the fields of political economy, business and financial history, financial institutions regulation and regional integration. His current research interest is foreign business operations in Africa. He leads the research consortium Dutch Multinational Businesses, Dutch Government and the Promotion of Productive Employment in Sub-Saharan Africa, which is part of the research agenda of INCLUDE and NWO-WOTRO.
Prior to joining the ASCL, he was Professor of Banking and Financial Institutions at the University of Nigeria and a member of the Monetary Policy Committee of the Central Bank of Nigeria. He has a PhD in Accounting and Finance from the London School of Economics. His thesis, entitled 'Banking Developments in Pre-Independence Nigeria: A Study in Regulation, Control and Politics', was awarded the International Economic History Association Prize for the Best Doctoral Thesis completed between 1997 and 2000 for the Post World War I Period. In addition to his academic qualifications, he is also a chartered accountant. He trained at Coopers and Lybrand (now PriceWaterhouseCoopers) in Nigeria.
Uche was a Carlo and Irene Brunner Scholar (1993-1994), a Commonwealth Scholar (1995-1997), a World Bank Robert S. McNamara Fellow (1999), an Association of Commonwealth Universities UK Titular (Worshipful Company of Chartered Accountants) Fellow (2001), a Leventis Visiting Scholar at the School of Oriental and African Studies, University of London (2000), an Academic Visitor in the Departments of Accounting and Finance and Economic History at the London School of Economics (2000-2001), a Visiting Fellow at the African Studies Centre in Leiden (2004, 2010), a Visiting Professor at the IILM Institute for Higher Education Gurgaon India (September 2008), an Alexander von Humboldt Georg Forster Fellow (for experienced researchers) and a Guest Professor at the Humboldt University Berlin (2008-2009), a Visiting Scholar, Discipline of Accounting, at the University of Sydney (October 2009), an Alexander von Humboldt Return Fellow (2010-2011) and a Guest Researcher at the Nordic Africa Institute Uppsala Sweden (2011).
Professor governance of finance and integrity in Africa
Afrika-Studiecentrum
Wetenschappelijke staf
No relevant ancillary activities