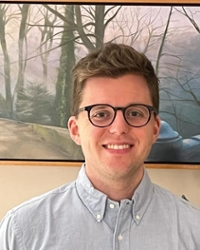 Basil Nelis
Researcher
Name

Dr. B.L.P. Nelis Ph.D.

Telephone

E-mail
Basil Nelis is a postdoctoral researcher at LUCAS. He holds a doctorate from the University of Oxford. His dissertation focused on the theme of female revenge in Seneca's tragedies.
More information about Basil Nelis
About
After completing BA and MA degrees at the University of Lausanne in Switzerland and doing my doctorate at the University of Oxford, I joined LUCAS in October 2022. I am currently involved in two projects, 'Anchoring Innovation' and, to a lesser extent, 'Experiencing Fragments', under the supervision of Prof. dr. Antje Wessels.
My research in the context of the Anchoring Innovation project explores the place of the 'new', or 'neoteric', poetry of the mid-first-century BCE in Latin literary history. By focusing on the genre often referred to as the 'epyllion', I aim to achieve a more refined understanding of how these texts are anchored in Hellenistic poetry and, in turn, of how poets of the Imperial age down to the Flavians anchor their own poetry in that of the neoterics. A more detailed outline of my project is available here: https://anchoringinnovation.nl/projects/the-new-poetry-in-latin-literary-history.
My role in the Experiencing Fragments project is to contribute to the Open Source Classics Commentary (OSCC), an online platform that presents the fragmentary remains of Roman Republican tragedy so as to promote the interactive study of these texts by scholarly and non-scholarly audiences alike.
My broader reasearch interests include the literature of the late Republican and early Imperiale age, especially Seneca's tragedies, on which I wrote my PhD thesis, as well as the reception of Classical literature in Early Modern France.
Researcher
Faculty of Humanities
Centre for the Arts in Society
Latijnse T&C
Work address
Arsenaal
Arsenaalstraat 1
2311 CT Leiden
Room number A1.02
Contact
No relevant ancillary activities