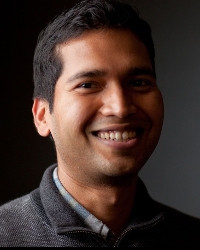 Arko Ghosh
Assistant Professor
Name

Dr. A. Ghosh

Telephone

E-mail

ORCID iD
Research
My research program is to develop a new generation of brain science (and training scientists) focused on explaining complex real-world behavioral patterns. We actively partner with clinics to leverage our new-found fundamental understanding of the human brain and behavior for developing modern digital health systems.
To discover the neural and behavioral processes underlying real-world behavior we focus on day-to-day smartphone interactions in conjunction with a range of data: from neural data stemming from brain implants to laboratory tasks. Our pursuit to unravel real-world behavior leverages the rapidly growing fields of data science and complexity science.
Our focus on the real world has a growing imprint – from capturing how we age to discovering fundamental patterns like multi-day behavioral rhythms. We also play a foundational role in launching spin-offs that focus on solving real-world problems using the science and technology developed in our laboratory.
Background
BS (Neuroscience) Trinity College, CT, USA
PhD (Neuroscience) Swiss Federal Institute of Technology, Zurich, Switzerland
Prior to focusing on the area of Neuroscience & Digital Behavior, I have contributed to the fields of Spinal Cord Injury, Movement Sciences and Translational Medicine. My work has been recognized by various grants & awards including the ETH-Medal and the Society-in-Science Branco Weiss Fellowship.
Assistant Professor
Faculteit der Sociale Wetenschappen
Instituut Psychologie
Cognitieve Psychologie
Co-founder & scientific advisor