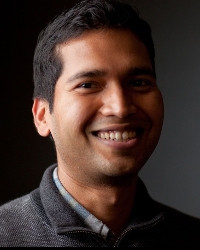 Arko Ghosh
Assistant Professor
Name

Dr. A. Ghosh

Telephone

E-mail

ORCID iD
Research
How does the brain enable such a wide range of behaviors – from juggling to smartphone tapping? I am interested in the possibility that the brain can self-adjust according to the daily behavioural demands. To explore this idea, I combine the study of smartphone behaviour with systems level neurosciences and have begun to unravel the principles of brain functions in the digital world.
Building-up the neuronal understanding of digital behaviour shall profoundly impact how we care and manage mental health. To accelerate this societal change, I collaborate with clinical and translational researchers to develop new tools that can provide health-related insights based on the day-to-day activities captured on the phone.
My research also resulted in a new spin-off focused on collecting and processing digital behaviour on the smartphone for commercial exploitation – QuantActions, Switzerland.
Background
BS (Neuroscience) Trinity College, CT, USA
PhD (Neuroscience) Swiss Federal Institute of Technology, Zurich, Switzerland
Prior to focusing on the area of Neuroscience & Digital Behavior, I have contributed to the fields of Spinal Cord Injury, Movement Sciences and Translational Medicine. My work has been recognized by various grants & awards including the ETH-Medal and the Society-in-Science Branco Weiss Fellowship.
Also see: www.arkoghosh.com
Assistant Professor
Faculteit der Sociale Wetenschappen
Instituut Psychologie
Cognitieve Psychologie
Co-founder & scientific advisor