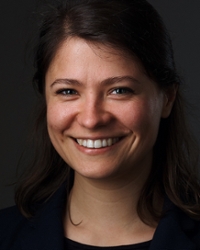 Anne Urai
Assistant professor
Name

Dr. A.E. Urai

Telephone

E-mail

ORCID iD
Short CV
Anne Urai studied cognitive neuroscience and philosophy at University College Utrecht, Xiamen University in China, University College London and École Normale Supérieure, Paris.

During her doctoral research in the lab of Tobias Donner at the Universitätsklinikum Hamburg-Eppendorf and University of Amsterdam, she investigated how our previous choices bias the way we interpret later information, and how this process is affected by the confidence in our decisions.
She joined Cold Spring Harbor Laboratory in New York as a postdoctoral fellow, investigating the neurophysiology of decision-making using high-density neural recordings in the mouse brain. During this time she was a core member of the International Brain Laboratory collaboration, working as part of a global team of systems and computational neuroscientists.

Her research in general focuses on the neural basis of decision-making across mammalian species, the interaction between learning and perception, and the neural basis of cognitive aging.
Research
As a cognitive neuroscientist, Dr. Urai investigates how the brain transforms sensory information into useful decisions, and how such decisions change with experience. A particular focus lies on lifespan development and the neural basis of cognitive aging.
Her research combines psychophysics and computational modeling of behavioral data with electrophysiological recordings in humans and rodents. She is also a passionate advocate for team science, open science and reproducibility.
Relevant Links
For more information about Anne Urai please see her website anneurai.net
Assistant professor
Faculteit der Sociale Wetenschappen
Instituut Psychologie
Cognitieve Psychologie
Cognitieve Psychologie
No relevant ancillary activities