Leiden Institute for Brain and Cognition
2014
LIBC PUBLIEKSDAG 'HUMAN POTENTIAL; OPTIMALISEER JEZELF, TRAIN JE HERSENEN' (in Dutch)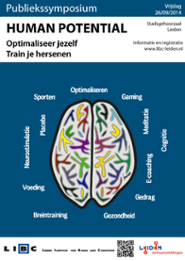 Tijdens deze dag kwamen vragen aan bod als: .
Moeten we altijd beter zijn dan ooit?

Van een verslaafd brein naar een 'afgekickt brein'? Angsten, verslavingen en andere problemen worden gewoonlijk aangepakt met medicijnen en praatsessies. Kunnen door gerichte mentale oefeningen (training) de hersenprocessen die voor problemen zorgen direct worden beïnvloed?

Hoe overwin je je angst?




Als angstige mensen sociale situaties vermijden kan de angst niet uitdoven en blijven ze bang. Wat de rol is van hormonen als testosteron en welke hersenstructuren helpen om automatische vermijdingsreactie te overkomen?

Kunnen hersenimplantaten verloren hersenfuncties herstellen?

Wie is hier de baas? Ons brein of ons immuunsysteem?
"Hoe kun je door psychologie en gedrag het immuunsysteem effectiever laten reageren? En waarom is stress daarbij eerder een vriend dan een vijand?

Kunnen we Placebo's inzetten voor optimale behandeleffecten?

En werkt dit ook op de lange termijn? Bijvoorbeeld voor het verminderen van bijwerkingen op medicijngebruik of bij immuuntherapieën voor chronische ontstekingsziektes, zoals reuma?
Locatie:

Stadsgehoorzaal Leiden

Organisatoren:

Andrea Evers, Lorenza Colzato & Mattanja Latuhihin

Aantal deelnemers: 742