PhD project
Eye gaze behavior in socially anxious individuals
Are there any differences in gaze behavior between high and low socially anxious individuals? What factors influence the relation between social anxiety and gaze behavior?
Duration

2017 - 2021

Contact

Funding

China Scholarship Council (CSC)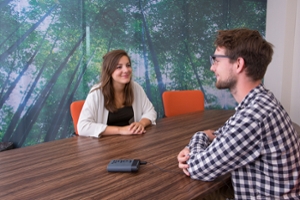 People with social anxiety disorder (SAD) experience extreme fear in social situations in which others may evaluate them. Avoidance of eye-contact is a hallmark feature of SAD on clinical and theoretical grounds. However, experimental findings are mixed.
This eye-tracking project investigates eye gaze behavior in socially anxious individuals by using wearable eye-trackers. The main aim of this study is to investigate whether gaze patterns significantly differ between high socially anxious individuals and low socially anxious individuals across multiple types of social situations (i.e. passive face-viewing situation, public speaking situations and face-to-face interaction) and what specific factors (e.g., levels of social-evaluative threat) affect the relationship between social anxiety and gaze behavior. Specifically, in passive face-viewing situations, participants are asked to simply look at a pre-recorded audience; in public speaking situations, participants are instructed to give a speech in front of the audience; in social interaction situations, the participants have a face-to-face conversation (with a same-sex confederate). In addition to eye-gaze behavior, voice characteristics (e.g., speech rate) are analyzed to test possible relations between social anxiety and voice characteristics.