PhD project
Early intervention and treatment prediction in childhood specific phobias: Combining one-session-treatment with app-based technology
Can a newly developed, app-based, personalized maintenance program enhance the effectiveness of the exposure-based one-session-treatment for children with a specific phobia?
Duration

2019 - 2024

Contact

Funding

ZONMW

Partners

Dr. Anke Klein (PI)
Prof. Dr. Michiel Westenberg - Leiden University treatment and expert center (Leids Universitair Behandel- en expertise centrum, LUBEC)
Prof. Dr. Silvia Schneider - Research and treatment center for mental health, Ruhr-Universität Bochum
Prof. Dr. Thomas Ollendick - Virginia Tech University
Prof. Dr. Maaike Nauta - University of Groningen & Accare treatment center, Groningen
Dr. Esther de Bruin - UvA minds academic treatment center
Prof. Dr. Ron Rapee - Macquarie University
Prof. Dr. Mike Rinck - Radboud University, Nijmegen
Prof. Dr. Susan Bögels, Prof. Dr. Reinout Wiers, drs. Peter Vonk - University of Amsterdam
Mrs. Josine Hamersveld – Angst Dwang en Fobie stichting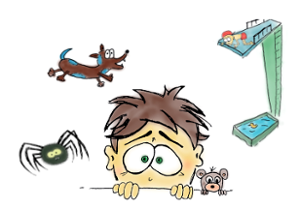 Kids Beat Anxiety - KiBA III
The KiBA III study of principal investigator Anke Klein is a multicenter randomized controlled trial investigating the effect of adding a personalized app-based maintenance program after One-Session Treatment. Additionally, possible underlying mechanisms and predictors of treatment outcome are investigated.
In this study, 174 children aged 7-14 receive a one-session exposure treatment in which the therapist will help them to gradually approach the feared subject or situation. In the maintenance program condition, children will receive a mobile app with personalized exercises to help them practice for four weeks after treatment. In the treatment as usual condition, children are encouraged to keep practicing at home after treatment, but will not receive the app to assist them with this. The main goal of this study is to investigate whether the app-based maintenance program enhances short- and long-term treatment outcomes.
A secondary goal of the study is to investigate underlying mechanisms of treatment, including self-efficacy, cognitive biased, habituation and expectation violation and extinction learning. Furthermore, possible predictors of treatment outcome will be explored, by examining child and family factors. The study will be conducted in four different treatment centers, three in the Netherlands and one in Germany.