Dissertation
Dear Future Me
Behavioral and neural mechanisms underlying self-concept development in relation to educational decision-making in adolescence
Author

Laura van der Aar

Date

23 June 2021

Links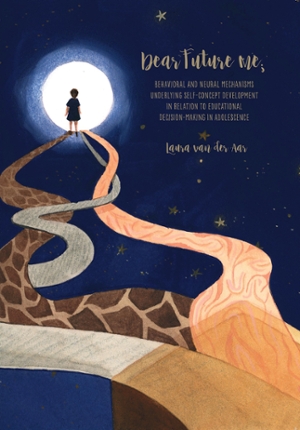 Summary
In this thesis, I investigated the behavioral and neural processes involved in self-concept development in adolescence within the context of future-oriented educational decision-making. The studies presented in this thesis all highlight that self-concept is a multifaceted and complex construct that not only develops in interaction with the social environment, but can also have an impact on someone's future environment.
For example, results from chapter 2 indicated that the social environment, expressed in the outcomes of social comparisons, can affect the positivity of the self to a different extent across multiple domains and different stages of adolescence. Chapter 3 showed how adolescents' academic self-concept can influence their motivation to stay committed to goals important for their future educational environment, whereas chapter 4 illustrated differences in self-esteem and self-concept clarity in individuals who differed in their experienced problems with choosing this future educational environment. Finally, chapter 5 demonstrated that in late adolescence, sensitivity to outside influences can be used to stimulate self-concept development through training which can ultimately help adolescents in their educational decision-making and adjustment in higher education.
Together, these studies provide a comprehensive view on self-concept development in adolescence that takes place within a broader social, and educational context.