Dissertation
The Subjectively Experienced Severity of Imprisonment
On Thursday 12 January 2017, Ellen Raaijmakers defended her doctoral thesis 'The Subjectively Experienced Severity of Imprisonment: Determinants and Consequences'. The defence took place at the Academy Building of Leiden University, Rapenburg 73. The PhD research was supervised by Professor P. Nieuwbeerta and Professor J.W. de Keijser.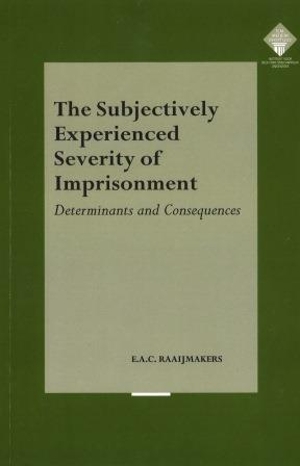 Severity experienced subjectively hardly ever investigated
When considering punishment, and in particular imprisonment, the concept of severity takes a central place. The severity of a prison sentence is after all essential for the extent to which it can deter offenders from any future criminal behaviour. The severity of a prison sentence is also used as a means to proportionally express disapproval. The concept of severity, however, as it has been applied throughout the past three centuries, relates in particular to the 'objective' severity of detention. According to this concept, severity is a function of objective characteristics of the punishment, such as its duration and circumstances. For example, a prison sentence is seen to be more severe simply to the extent it is a longer sentence instead of a short one. How detainees themselves experience the severity of their sentence is hardly ever investigated.
The severity of detention experienced subjectively and future criminal behaviour
This research focusses on severity experienced subjectively. The main objective is to gather knowledge about the determinants of severity of detention experienced and the consequences of this in relation to future criminal behaviour when inmates reflect on the severity of their sentence. To discover this, Ellen Raaijmakers addressed the question to what extent detainees differ in how they perceive the severity of their prison sentence and to what extent the severity perceived changes the longer the detainees are imprisoned. Besides describing the differences and changes in how the detainees experienced the severity of their sentence, attention was also paid to the question of to what extent there is an explanation for such differences and changes. To find out more about the consequences of the severity of detention experienced, the severity experienced was investigated during detention in relation to how it was experienced after release and in relation to future criminal behaviour.
Valuable recommendations for the future
With regard to the determinants of experienced severity of detention, the results show that detainees vary greatly in how they perceive the severity of their detention. This implies that a punishment that is equal in duration, causes a different level of disapproval in different offenders.
It also appears that after three months, detainees experience their detention as increasingly less difficult. This implies that after three months each extra day in detention is less effective as a way to express disapproval.
In relation to the consequences of the experienced severity of detention, the results demonstrate that no link exists between this and the likelihood of future criminal behaviour. Since this finding is in line with a large number of previous studies in this field, it would seem that imposing long prison sentences solely as a deterrence can no longer be justified.