Dissertation
Litigation costs orders and access to the courts in IP cases
On 1 February 2018 Charlotte Vrendenbarg defended her PhD dissertation "Litigation costs orders and access to the courts in IP cases. A comparison of litigation costs schemes with EU law". The research was supervised by Professor H.J. Snijders and Professor D.J.G. Visser.
Author

Charlotte Vrendenbarg

Date

01 February 2018

Links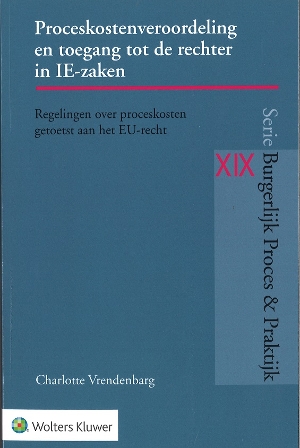 The central question in the dissertation is to what extent the implementation, interpretation and application of Article 14 of the Enforcement Guidelines in the Netherlands is consistent with EU law. To review conformity with EU law, first the assessment framework to be met by the national rules on litigation costs was outlined. On the basis of extensive literature and case law study it was examined how the litigation costs rule of Article 1019h CCP is interpreted and applied in practice in Dutch IP cases. In addition, the effects and possible effects of Article 1019h CCP on parties' conduct during proceedings and when settling in IP disputes is highlighted. For that purpose, on the basis of comparative law and legal economic research, insights acquired were linked to anecdotal evidence of the operation of Article 1019h CCP in practice. In the last stage of the research, conformity of the implementation, interpretation and application of the litigation costs rule in relation to EU law was studied and specific recommendations were made to advance a litigation cost rule that is better in conformity with EU law in IP cases. Finally, the outcomes of the research were applied to analyse EU conformity of the fixed remuneration fee in civil proceedings in general.