Dissertation
The restorations of the Comité de Conservation des Monuments de l'Art Arabe in Egypt: "conservation" or "reinvention" of monuments?
Dina Ishak Bakhoum defended her thesis on 21 January 2021
Author

D. Ishak Bakhoum

Date

27 January 2021

Links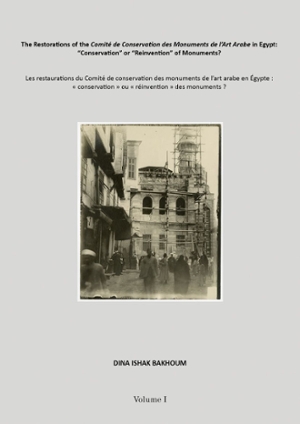 The Comité de conservation des monuments de l'art arabe [Laǧnat Ḥifẓ al-Āṯār al-'Arabiyya al-Qadīma] was established in Egypt in December 1881 under the Ministry of Awqāf [Islamic religious endowments] and operated under it until 1936, when it was transferred to the Ministry of Public Instruction. It was the body in charge of the conservation and restoration of Islamic (and later also Coptic) monuments and remained active till the 1950s. Its members were European and Egyptian specialists, alongside ex-officio officials. This dissertation scrutinizes and analyzes the Comité's interventions on minarets, domes and minbars [pulpits] of Mamluk mosques, examining the restoration and reconstruction methodologies, approaches and the rationale for the decisions taken. Through the art-historical lens, this research shows that the analysis of the Comité's modern layer raises questions on the 'conservation' or 'reinvention' of these historic buildings and their 'authenticity'. It argues that such an endeavor is indispensable for the comprehension of these architectural palimpsests composed of historic and modern layers. The dissertation explores the information that could be obtained when moving beyond the post-colonial discourses through which the Comité has generally been studied so far. The research demonstrates that the factual and careful investigation of the specificities of the Comité's actions and actors in a contextualized manner and without making a posteriori judgements reveals significant information on its work modalities as well as new nuanced narratives and interpretations.
Supervisors: Prof. dr. L.P.H.M. Buskens, Prof. dr. M. Volait