Dissertation
The monastery rules : buddhist monastic organization in pre-modern Tibet
This study discusses the position of the monasteries in pre-1950s Tibetan societies and how that position was informed by Buddhist monastic ideology.
Author

Berthe Jansen

Date

24 February 2015

Links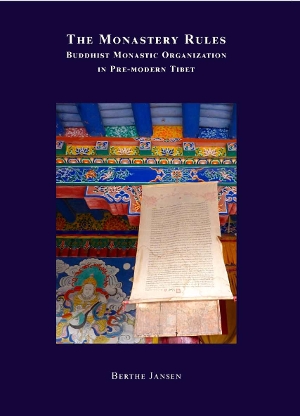 The point of departure of this dissertation is the huge impact of monastic Buddhism on Tibetan society, economy, law, and culture. This work examines the impact of Buddhist monastic institutions on Tibetan societies by looking at their monastic policies with regard to organization, economy, justice, and public relations. The primary sources in which these policies can be found are the monastic guidelines (bca' yig). As this type of literature has not been studied in any detail, this study contains an exploration of this genre, its parallels in other Buddhist cultures, its connection to the Vinaya, and its socio-historical value.
The textual study is supplemented with important information gained via oral history methods. It is demonstrates that the monastery was mostly guided by Buddhist monastic law and that it was averse to any societal instability. The monastic guidelines are witness to certain socio-economic changes, but also contain rules that aim to change the monastery in order to preserve it. The monastic institutions' influence on society was maintained not merely due to existing power-relations, but also because of certain deep-rooted Buddhist beliefs.
Promotor: J.A. Silk, Co-promotor: L.W.J. van der Kuijp (Harvard University)