Book
Reading Cicero's Final Years
This volume contributes to the scholarly debate regarding the reception of Cicero and focuses on one particular moment in Cicero's life: the period from Caesar's death (March 44 BCE) up to Cicero's own death (December 43 BCE).
Author

Edited by Christoph Pieper and Bram van der Velden

Date

14 December 2020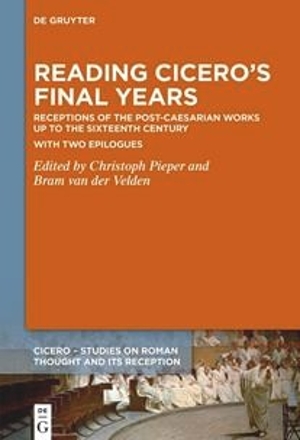 These final years condense and enlarge themes that Cicero's life stands for: on the positive side his fight for freedom and the republic against mighty opponents (for which he would finally be killed); on the other hand his inconsistency in terms of political alliances and tendency to overestimate his own influence.
Major themes negotiated in this volume are the influence of Cicero's regular attempts to anticipate his later reception; the question of whether or not Cicero showed consistency in his behaviour; his debatable heroism with regard to republican freedom; the interaction between philosophy, rhetoric and politic; and the inclination of many recipients to read Cicero's final works as his swan song.

The volume is edited by Christoph Pieper and Bram van der Velden and is part of Christoph Pieper's ongoing VIDI project "Mediated Cicero". It has been published in full open access by De Gruyter; here is the link to all chapters.