Book
Form and Function in Greek Grammar. Linguistic Contributions to the Study of Greek Literature
Form and Function in Greek Grammar. Linguistic Contributions to the Study of Greek Literature is a new book, written by Albert Rijksbaron. Rijksbaron is internationally known as one of the leading scholars of the Ancient Greek language, whose work has exerted a strong and lasting influence on the scholarly debate concerning many aspects of Greek linguistics. Luuk Huitink is one of the editors.
Author

Author: Albert Rijksbaron Editors: Rutger J. Allan, Evert van Emde Boas and Luuk Huitink

Date

23 May 2019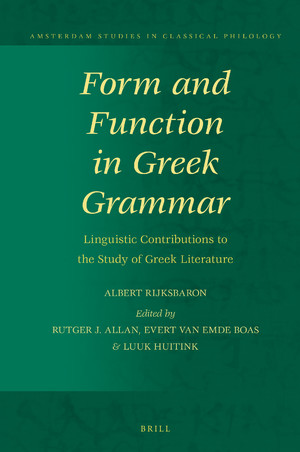 This volume brings together twenty of his papers, two of which have been translated into English and some which are not easily accessible elsewhere. The selection represents the full range of Rijksbaron's research, including papers on central topics in Greek linguistics such as tense-aspect, mood, voice, particles, negation, the article, questions, discourse analysis, as well as on the views of ancient grammarians and modern commentators. As a whole, the volume shows how much linguistic analysis can contribute to our understanding of Greek literary texts.