Book
Experience, Narrative, and Criticism in Ancient Greece. Under the Spell of Stories
Experience, Narrative, and Criticism in Ancient Greece pursues a new approach to ancient Greek narrative beyond the taxonomies of structuralist narratologies.
Author

Edited by Jonas Grethlein, Luuk Huitink, and Aldo Tagliabue

Date

06 December 2019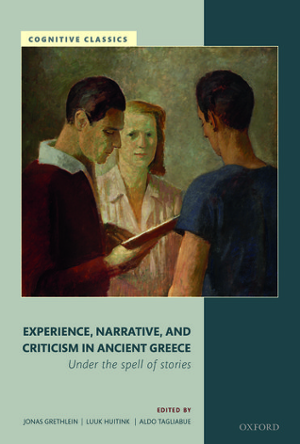 Focusing on the phenomenal and experiential dimension of our response to narrative, it triangulates ancient narrative with ancient criticism and cognitive approaches, opening up new vistas within the study of classical literature while ably deploying the ancient material to demonstrate the value of a historical perspective for cognitive studies. Concepts such as immersion and embodiment help to establish a more comprehensive understanding of ancient narrative and ancient reading habits, as manifested in Greek criticism and rhetorical theory. The thirteen chapters presented here tackle a broad range of narrative genres, broadly understood: besides epic, historiography, and the novel, tragedy and early Christian texts are also considered alongside non-literary media, such as dance and sculpture. Authored by international specialists in the language, literature, and culture of ancient Greece, each chapter utilizes a rich set of theoretical and methodological tools drawn from cognitive studies, phenomenology, and linguistics that place them at the vanguard of a strong new current in classical scholarship and literary criticism more generally.