Dissertation
Descendants and Ancestors: A study of Arabic inscriptions from the Arabian Peninsula (1st-4th c. AH/7th-10th c. CE)
On the 20th of October Abdullah Alhatlani successfully defended a doctoral thesis and graduated.
Author

A.S.M.B. Alhatlani

Date

20 October 2021

Links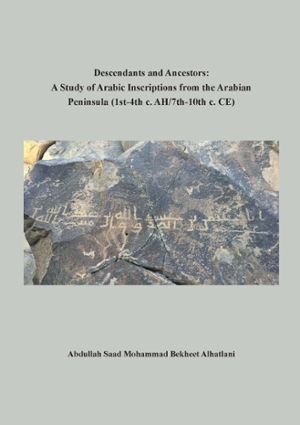 This thesis study 260 Arabic inscriptions from the Arabian Peninsula, corresponding to modern-day Saudi Arabia, dating to the first four centuries AH/ 7th to 10th centuries CE. In total, 260 inscriptions are studied, 145 of which are published here for the first time. The corpus pertains to four families whose ancestors are considered, from the literary sources, to be the Prophet Muḥammad's companions. Three of the families belonged to the tribe of the Prophet, the Quraysh, namely the descendants of al-Mughīra al-Makhzūmī, ʿUmar son of al-Khaṭṭāb, and al-Zubayr son of al-ʿAwwām. The fourth family is that of the descendants of Abū ʿAbs, from al-Anṣār. The corpus includes 106 personal names and was collected from different regions of Saudi Arabia, with most of the inscriptions found in the Medina region. Furthermore, the inscriptions extend our knowledge of these families beyond the genealogical sources since they provide us with knowledge of previously unknown individuals, which helps us reconstruct various family trees. The thesis also discusses why individuals whose names are found in the inscriptions are absent from the genealogical sources. There is also discussion of the epigraphic habit of the inhabitants of the Arabian Peninsula which was popular in the early Islamic period. It also shows that different members of one family left inscriptions at one site for around two centuries. The thesis concludes that inscriptions constitute an essential source for genealogical studies.
Supervisors
•Prof. P. Sijpesteijn
•Prof. R. Carter (UCL-London)
This PhD research was financed by Kuwait University.