Book
Blood, Sweat and Tears
Blood, Sweat and Tears: The Changing Concepts of Physiology from Antiquity into Early Modern Europe
Author

Manfred Horstmanshoff, Helen King and Claus Zittel (Eds.)

Date

01 June 2012

Links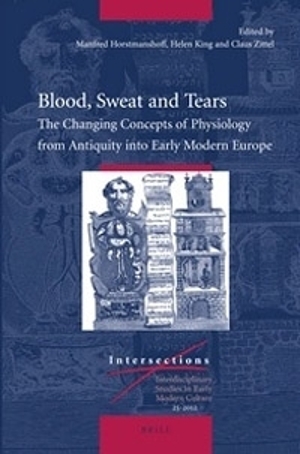 The history of anatomy has been the subject of much recent scholarship. This volume shifts the focus to the many different ways in which the function of the body and its fluids were understood in pre-modern European thought. Contributors demonstrate how different academic disciplines can contribute to our understanding of 'physiology', and investigate the value of this category to pre-modern medicine.
The book contains individual essays on the wider issues raised by 'physiology', and detailed case studies that explore particular aspects and individuals. It will be useful to those working on medicine and the body in pre-modern cultures, in disciplines including classics, history of medicine and science, philosophy, and literature.

Readership
Mostly researchers interested in the history of the body, history of ideas, history of medicine and science. Medical practitioners would also find this material interesting.

Manfred (H.F.J.) Horstmanshoff was Professor of Ancient Medicine at Leiden from 2006- 11, having taught Ancient History there since 1976. He is currently a Fellow of the Internationales Kolleg Morphomata, University of Cologne, studying the history of the patient from a comparative perspective. His publications include the co-editorship (with P.J. van der Eijk and P.H Schrijvers) of Ancient Medicine in its Socio-Cultural Context (Amsterdam: Clio Medica, 1995) and editorship of the selected papers of the XIIth Colloquium Hippocraticum as Hippocrates and Medical Education (Leiden: Brill, 2010).

Helen King, formerly Professor of the History of Classical Medicine at the University of Reading, is currently Professor of Classical Studies at The Open University, Milton Keynes. She works on ancient medicine and its reception until the nineteenth century, particularly on gynaecology and midwifery. Her publications include The Disease of Virgins (London: Routledge, 2003) and Midwifery, Obstetrics and the Rise of Gynaecology (Aldershot: Ashgate, 2007).

Claus Zittel teaches philosophy and German literature at the Universities of Frankfort am Main, Berlin (FU) and Olstzyn (Poland) and is the co-leader of the Max-Planck Research group, "The Conscious Image" at the Kunsthistorisches Institut/Max-Planck-Institut Florence. His publications include Theatrum philosophicum,. Descartes und die Rolle ästhetischer Formen in der Wissenschaft (Berlin: Akademie Verlag, 2009) and (with Moritz Epple) Science as Cultural Practice Vol. 1: Cultures and Politics of Research from the Early Modern Period to the Age of Extremes (Berlin: Akademie Verlag, 2010).
June 2012
ISBN 978 90 04 22918 1
Hardback (xxviii, 772 pp.)
List price €217,-