Book
Barbarian: Explorations of a Western Concept in Μodern Theory, Literature and the Arts. Vol. 1: From the Enlightenment to the Turn of the Twentieth Century.
Barbarism: from the 18th century to the present.
Author

Markus Winkler, Maria Boletsi, Jens Herlth, Christian Moser, Julian Reidy and Melanie Rohner.

Date

12 September 2018

Links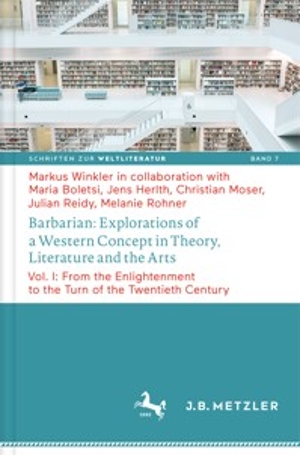 The study explores the history of the concept 'barbarism' from the 18th century to the present and illuminates its foundational role in modern European and Western identity. It constitutes an original comparative, interdisciplinary exploration of the concept's modern European history, with emphasis on the role of literature in the concept's shifting functions. The study contributes to a historically grounded understanding of this figure's past and contemporary uses. It combines overviews with detailed analyses of representative works of literature, art, film, philosophy, political and cultural theory, in which "barbarism" figures prominently.
This publication stems from an international collaborative research project that was funded by the Netherlands Organization for Scientific Research (NWO Internationalization grant; PI: Maria Boletsi) and the Swiss National Science Foundation (FNS, PI: Markus Winkler).
The first of the two volumes of this co-authored study has just been published by Metzler.
The second volume of the project is expected to be published in 2020.