Book
Author, Reader, Book: Medieval Authorship in Theory and Practice
This collection brings into conversation several kinds of scholarship on medieval authorship which have tended to remain separate over the last two to three decades, a period of steadily increasing scholarly interest in this topic.
Author

Stephen Partridge & Erik Kwakkel (Eds.)

Date

01 January 2012

Links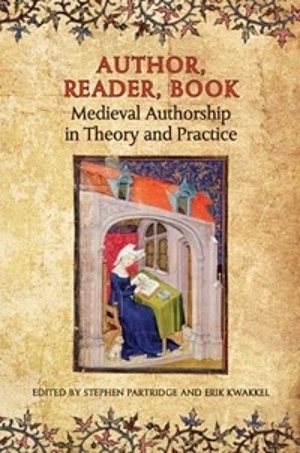 About the book
This book brings together theoretical reflections by Alastair Minnis, the foremost expert in the field of medieval authorship, with a series of case studies of individual writers and their texts and books. In addition, it draws those case studies from several languages, including Latin, French, Dutch, English, and Middle Scots. Moreover, it considers devotional literature, such as the writings of Bishop Reginald Pecock, alongside works that are more secular in focus, including some by Chaucer and Christine de Pizan, and the collection's chronological range is unusually broad, extending from the twelfth through the early sixteenth centuries.
Two recurrent themes help to bind these essays into a coherent whole. First, many of the contributors emphasize the relationship between authorship and readership, for example by inquiring into how medieval authors represent themselves as readers, how they construct their relationships to their authoritative predecessors, and how they propose models of reading for their audiences. Second, several essays consider the relationship of authorship to the physical presentation of text in manuscript and printed books, by examining such issues as the compilation and ordering of texts within a book, or the significance of extra-textual features, such as illustrations, titles, and headings, for medieval ideas of authorship.
Contributors
Kirsty Campbell, Sebastian Coxon, Iain Macleod Higgins, Erik Kwakkel, Deborah McGrady, Alastair Minnis, Anita Obermeier, Stephen Partridge and Mark Vessey.