Dissertation
Aligning religious law and state law: Street-level bureaucrats and Muslim Marriage practices in Pasuruan Indonesia
Latif Fauzi defended his thesis on 18 May 2021.
Author

M.L. Fauzi

Date

18 May 2021

Links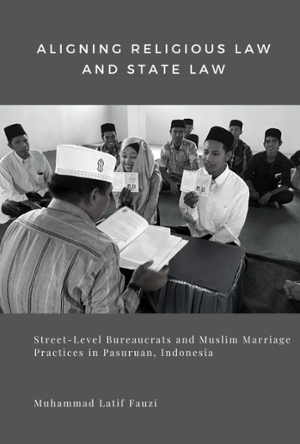 This thesis discusses the ways in which local officials deal with the tensions concerning regulations on Muslim marriage and social practices that emerge as a response to such regulations. By looking at the implementation of legal norms on marriage, the functioning of marriage bureaucracy and the people's attitudes towards state recognition of marriage in the local setting, this thesis suggests that Indonesia is experiencing a continuing process of the penetration of state law into society. At the law-making level, instead of reforming the substance of the marriage law, which would only stir up controversy and debates, the government has used a citizens' rights approach to control marriage practice. This citizens' rights approach is helpful in guiding people towards compliance with the state legal framework.
Furthermore, the central state is also endeavouring to remove all forms of informality from the procedures involved. Nevertheless, in practice, it seems it is an uphill battle to reduce informal intervention. In the end, the willingness of the state officials to give a less than strict interpretation of legal rules is key to guaranteeing the functioning of the state law and will be good for the legal development of Indonesia in the future.
Sponsorship: The MORA 5000 Doktor Scholarship
Supervisors: prof. dr. L.P.H.M. Buskens; Prof. dr. A.W. Bedner