Publication
Voluntary, Non-Binding Norms for Responsible State Behaviour in the Use of Information and Communications Technology: A Commentary
The United Nations Office for Disarmament Affairs (UNODA) has published the 2017 issue in their Civil Society and Disarmament series, titled Voluntary, Non-Binding Norms for Responsible State Behaviour in the Use of Information and Communications Technology: A Commentary. The series aims to provide a forum for the views of civil society and support an informed debate on topical issues such as arms limitation, disarmament and security.
Author

Liisi Adamson, Els de Busser, Zine Homburger

Date

01 December 2017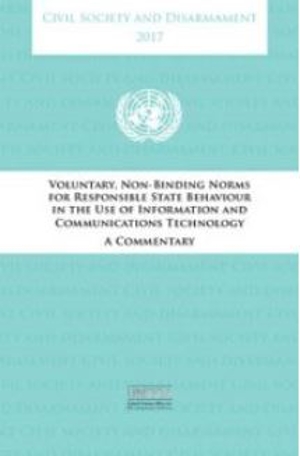 Liisi Adamson, Els de Busser, and Zine Homburger from The Hague Program for Cyber Norms were lead editors and authors of the commentary of norms pertaining to cooperation, due diligence, information sharing and criminal use of ICTs.
The publication supports the international efforts to come to a set of norms regulating the behavior of states in cyber space, focusing on permissible and impermissible behavior during conflicts and during security operations in peacetime. This is especially relevant since the last round of the UN GGE process was unsuccessful in producing consensus and states are looking for novel ways out of the impasse.
The full commentary can be accessed here.