Publication
Indigeneship, bureaucratic discretion, and institutional change in Northern Nigeria
'Can he do it?' Since the remarkable victory of the All Progressives Congress (APC) in the 2015 Nigerian presidential elections, this has arguably been the most frequently posed question in Nigerian politics.
Author

David Ehrhardt

Date

07 March 2019

Links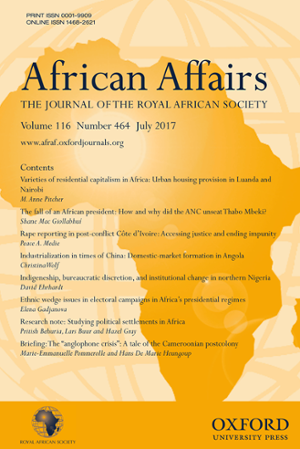 Can President Muhammadu Buhari deliver on his promise to defeat Boko Haram while also addressing the myriad economic, social, and political challenges facing Africa's troubled giant?
Read the full article of David Ehrhardt in African Affairs.