Dissertation
Weneya´a – "quien habla con los cerros"
This study documents and translates the Saa (Zapotec) cultural heritage of the Bene' Ya'a/En'ne I'ya peoples, the Zapotec inhabitants of the Sierra Norte of Oaxaca.
Author

C.I. Davila

Date

07 March 2019

Links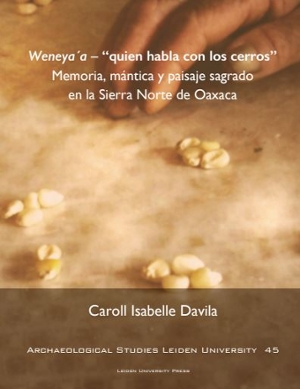 Memoria, mántica y paisaje sagrado en la Sierra Norte de Oaxaca
This heritage is studied by using two major approaches: the symbols transmitted during rituals and mantic interpretations executed by ritual experts and the meaning of the sacred landscape in cultural memory. Both approaches were considered from a historical perspective and are presented with the analysis of ancient mantic documents and the archaeological record of the sacred landscape.
Due to the importance given to symbols and landscape by the Zapotec peoples, the documentation and interpretation of the heritage of the Saa is the result of a tight collaboration with peoples of the communities involved in this work. The ritual experts in mantic, healing and ritualistic activities of the Dilla Xhon variant (Cajonos Zapotec) are called Weneya'a, which means "the one who speaks with the mountains".
The Weneya'a give meaning to the cultural heritage of their communities, to their sacred places, to their religious calendar, to life and death. They also heal the sick, give advice to future married couples and include new-borns as part of the community, all of this according to their sacred landscape. The Weneya'a give continuity to the cosmogonic narratives, sacred words, ceremonial speeches, herbal medicine and fundamental values of their communities.