Book
Tracing Technology: Forty Years of Archaeological Research at Satricum, Rome 25-28 October 2017
With the resumption of archaeological investigations at Satricum (Borgo LeFerriere, Latium), in 1977, a broad array of themes, methodologies and analytical approaches have been pursued. A common thread is technology, which encompasses all social, economic and cultural aspects of human agency.
Author

M. Gnade (Editor), M. Revello Lami (Editor)

Date

01 December 2021

Links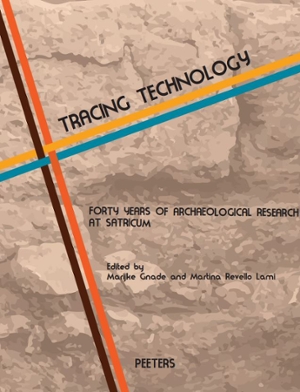 Artefacts, built structures and even landscapes shaped by people prompt technical description and analysis while at the same time testifying to technological knowledge and know how in ancient communities. The prolonged research history of Satricum itself, furthermore, nicely epitomizes the development of archaeology as a discipline over almost half a century.
The papers in the present volume address technology as a cultural phenomenon embedded in specific worldviews, social practices and human agency. At the same time, they underline the contribution of this subject to understanding technical events and choices in their social and cultural contexts.
The contributions touch upon four themes: landscape, building practices, artefacts production, and modern visualisation techniques. Each represents a different angle through which technology might be addressed. The geographical context is broader Central Italy between the Tyrrhenian and Adriatic regions. Chronologically, they cover the Bronze Age to the late Republican period. In all sections, Satricum was chosen to serve as either focus or point of departure.