Research facilities
General Lab Facilities
Application

Shared, general-purpose labs.

Availability

Staff, guest researchers and students

Location

Contact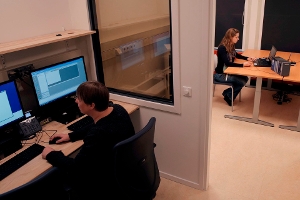 Introduction
Three standardised, time-shared labs equipped with 1-way screens between participant- and experimenter room. The rooms are flexible in use and almost all measurement set-ups can be built by SOLO's labtechnicians. Each lab has an experimenter- and a data-acquisition computer available, but you are allowed to bring your own research notebook. When doing physiological experiments you have to bring your own or borrowed equipment. By placing sound-damping screens you can also run experiments with more than 1 participant in the same room.

The rooms can be booked by researchers from all research groups from Psychology and Education and Child Studies, when their own labs are unavailable.
Eye tracking
E-Prime tasks
Physiology
Lab users have to be acquainted with lab protocols and technology.