Students build software for real customers
Students gain practical experience while clients receive a solution to their software needs: the student software company LUDev hits two birds with one stone. 'Through LUDev, students learn what else is involved in software development besides programming.' Interested? You can now submit new projects for 2024.
In the third-year bachelor course Software Engineering, computer science students learn to develop software for real customers. Associate professor Alfons Laarman initiated the course: 'It provides a crucial connection to the job market. We challenge students to work in teams, utilising their programming skills to create something that meets the client's requirements. This establishes a link between theory and practice.
Who are taking the Software Engineering course?
Software Engineering is a third-year bachelor course for students in the programmes Computer Science, Bioinformatics, Computer Science & Economics and Data Science and Artificial Intelligence.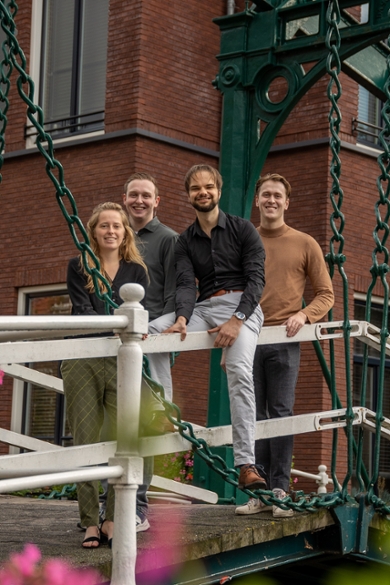 LUDev: the link between student and customer
Laarman: 'It quickly became apparent that students found it more challenging to work for real clients rather than on assignments devised by us. That's why we established LUDev: a virtual software company entirely run by students.'
'Our company pairs students with partners from both within and outside the university,' says Aart Rosmolen, fourth-year Bachelor's student in Bioinformatics and Chief Operational Officer of LUDev. 'These can be research groups as well as commercial businesses. LUDev's portfolio includes not only many internal projects but also assignments from institutions such as LUMC, the Ministry of Infrastructure & Water Management, and the Tax Authority.'
From student project to usable product
'A great example involving a commercial party is the maritime engineering firm C-Job,' says Sven van Dam, fourth-year Bachelor's student in Computer Science and Chief Communication Officer of LUDev. 'The company was seeking software to estimate the optimal lightweight of new ships and visualise their data. A team of five students devised a tool for this purpose, which C-Job still uses.'
Hence, a collaboration may well result in a usable product. 'However,' Van Dam adds, 'most students are doing this for the first time, and there's limited time. That's why the final result isn't always a fully-fledged product.' Laarman: 'Yet, usually, students manage to implement at least a prototype. Clients can then take it further from there.'
Expansion plans: more collaborations, more disciplines
LUDev has now evolved into a standalone virtual company. Laarman: 'We collaborate extensively with various courses within the Master's programme ICT in Business & the Public Sector. Master's students take on the role of independent advisors, overseeing the quality of bachelor projects, for instance. We also aim to collaborate with computer science courses at Hogeschool Leiden. This way, we can further challenge students through collaborations between diverse teams, possibly even fostering a competition!'
Additionally, LUDev envisions expanding into other disciplines in the future. Rosmolen: 'So that we can solve a broader range of problems, not solely confined to software. Consider, for example, mathematical challenges in business. This way even more students can acquire practical experience.'
Automating software development and imaging breast cancer genes
Last year, Rosmolen and Van Dam took the Software Engineering course themselves. Van Dam worked for the 'client' LIACS on 'Next-Generation UML Software': 'A project in which AI automatically develops software, relieving developers from the task of programming.' Rosmolen: 'As a Bioinformatics student, I worked on visualising data related to breast cancer genes for researchers at LACDR. With our software, researchers can select desired data and automatically generate various plots and graphs.'
Rosmolen and his group could easily communicate with their 'clients,' who were just a few floors above them. 'We would walk by and discuss what could be done differently or address any biological inaccuracies, for instance.'
'It's not necessarily about how to write the best algorithm.'
All things surrounding programming
And that's precisely the added value LUDev provides: applying theory in practice. Van Dam explains, 'It's actually about everything surrounding programming. It's not necessarily about writing the best algorithm or optimising a specific problem, but more about working on a project as a team. How do you document that neatly? How do you communicate with a client? Essentially, all the non-technical aspects surrounding it.'
Professor Joost Visser from the Master's programme ICT in Business & the Public Sector agrees: 'In practice, software development never occurs in a vacuum. There's always a team, users, a business environment. This brings constraints and challenges. Through LUDev, students extensively acquaint themselves with these aspects.'
'It's impressive to see how students independently tackle these challenges,' says Laarman. 'How much knowledge they've already acquired within their studies and beyond. This course encourages the exchange of that knowledge and experience, allowing students to develop new and valuable skills in many areas.'
Need Assistance with Software Development for Your (Research) Project? LUDev is here to help!
Do you require additional support in software development for your project? LUDev offers its expertise!
Deadline for New Projects: 1 January
Project Duration: February to June 2024
For commercial entities, LUDev requests an initial fee of 1,000 euros, along with an additional charge for the intellectual property if you decide to acquire the software. Participation for non-commercial purposes is free of charge.