Working in a living museum
Roderick Bouman is collection manager of the Leiden Hortus botanicus. He keeps track of which plants there are in the garden, where they come from and makes sure visitors can find the right information about them. 'We are like a regular museum,' says Bouman. 'Except that our objects are alive. That makes the collection very dynamic.'
In the warm greenhouses of the Hortus, Bouman walks past a row of tropical plants. Next to each plant is a sign with its Latin name and often its popular (Dutch) name. 'As collection manager, I take care of the data behind all the plants in our collection. Which plants do we have? Where did they originally come from? And do we use them for education, research projects or just for showing them to the public? Placing and updating the informative signs is also part of that.'
Unlike most museums, the permanent collection is not so permanent at all. 'Some plants die and others multiply. Therefore, you have to keep updating all the information. That's a big part of my job.' Fortunately, he doesn't have to do that alone. 'There is a whole botanical team and we get a lot of help from the Hortus volunteers.'
Where can I find the carnivorous plants?
Bouman also likes to share all that information with the public. 'We are currently updating our public plant finder. Visitors can search for a tree or plant and see where it comes from, what it looks like and where to find it in the Hortus. We are increasingly expanding the online catalogue and trying to add more stories as well.'
Yet the Hortus is more than just a museum. Research is also an important part of the work. 'We set up research projects and I teach from time to time. A while ago, I was in Borneo with a group of master's students to teach them more about tropical biodiversity. When I was a master's student nine years ago, I went there myself. Super fun to be there now as a lecturer.'
Tropical plants in the wrong family tree
While continuing the tour of the Hortus, Bouman stops for a moment and turns over some leaves. 'Look, this plant has red flowers underneath the leaves,' he says enthusiastically. 'It's called the Breynia androgyna and is found in tropical and subtropical Asia. It is a sister species of the plant family Phyllanthus.' The fact that he knows a lot about this topic is no coincidence. Bouman did his PhD research on this plant group at the Hortus.
The tropical plant genus Phyllanthus contained about 900 plant species, from small plants to large trees. But its family tree turned out to be not entirely correct. 'The group was mixed with a number of other plant groups. With DNA analysis and external characteristics, I started to reclassify the plants into clusters and subgroups.' To do so, Bouman spent many hours in the lab. 'I could do part of the research with living plants from the Hortus or plants from the Hortus' network. In addition, I used a lot of dried material from the Naturalis Biodiversity Center, although it is a bit more difficult to extract DNA from those.'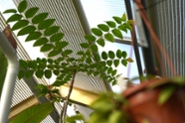 Looking for new medicines
With the adapted pedigree, Bouman can also look at the evolution of plants and flowers within the group. 'Now they are found in all the tropics and subtropics of the world. One of the interesting questions is when the South American plants spread to the other continents. We have tried to make a reconstruction of that.'
Bouman also looked for antibacterial effects in different plants of the group. 'A number of these plants are part of traditional medicines. We examined those and found indications in some plants that they actually have antibacterial effects. But the effect was quite small.' Isolating the exact substance responsible for that effect has not yet been successful. 'That's for someone else to tackle in the future.'
Strolling through the garden
In his new research projects, Bouman tries to use Hortus' extensive collection as much as possible. 'I have students researching carnivorous plants. We have a lot of material available for that. And we also like to show that research to the public.'
Bouman really likes the combination of research, teaching and working in a living museum. 'My work is enormously varied. No week is the same and it is always fun here.' He is grateful that he gets to work in a green environment every day. 'It's wonderful to be able to work here under the sun! Sometimes I pause to listen to all the sounds of the Hortus. I am really happy when I am strolling through this beautiful garden.'
You can read Roderick Bouman's dissertation on the Leiden dissertation repository website.
Text and pictures: Inge van Dijck