Leiden University Libraries acquires a rare map of Suriname
Leiden University Libraries (UBL) has acquired a rare manuscript map of Suriname. The map from 1830 is almost 2.5 meters long and is highly detailed. It was hand-drawn by Helmuth Hendrik Hiemcke (1808-1858), one of the official surveyors employed by the colonial administration, and shows Suriname in a period when the plantation colony was past its economic peak. Because the map was never published in print, it was virtually unknown. The map is a valuable source for the history of Suriname in the last decades of slavery. The acquisition makes the map available for research, education and the public.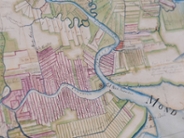 Map collections
The map is an important addition to the cartographic collections and the Caribbean collections of the UBL. The Bodel Nijenhuis collection already contains a great deal of hand-drawn map material and the collections of the Royal Institute of the Tropics (KIT) and the Royal Netherlands Institute of Southeast Asian and Caribbean Studies (KITLV) contain many maps of the Caribbean. The map collections contain a considerable amount of maps relating to Suriname, dating from the beginning of the Dutch presence in the seventeenth century to the present day. All important printed overview maps of the plantations are present. Hiemcke's acquired map completes this series. The map also ties in with Leiden University Library's internationally renowned Caribbean collections.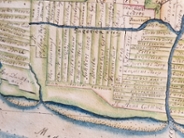 Unique acquisition
Curator Martijn Storms is grateful to be able to acquire the unique map: 'I was amazed when I saw the map for the first time at an antiquarian bookshop in Maastricht. The size, the detail. It shows the country in the last decades before the abolition of slavery, a period about which relatively little is known. The opportunity to purchase such a unique map is rare. I am very grateful to Carl Haarnack, a Suriname expert, for drawing the UBL's attention to this map." The acquisition of this map was made possible by the Bodel Nijenhuis Fund for Cartography, which is part of the Leiden University Fund, the Friends of the UBL, the KITLV foundation and several private donations.