Alumni in Indonesia: 'My experience in Leiden inspired me to try to change the situation here'
Alumni and researchers met at two well-attended alumni dinners in Yogyakarta and Jakarta. The alumni reminisced about their time in Leiden and got to see their lecturers once again.
In her opening speech at the dinner in Jakarta, Annetje Ottow, President of the Executive Board, reflected on how many Leiden alumni now live in Indonesia. 'I see so many alumni in every city I visit. You are our ambassadors and you do so much for us. We're truly grateful for that.'
Herlambang Wiratraman
Herlambang Wiratraman was one of the alumni at the dinner in Yogjakarta. He wrote his dissertation in Leiden about press freedom and received his PhD from Leiden Law School in 2014. 'I discovered a new academic culture in Leiden', he says. 'The most fundamental difference was the academic freedom. That freedom is much more limited in Indonesia.' After his PhD he returned to Indonesia. 'My experience in Leiden inspired me to try to change the situation here. I researched academic freedom at my own expense, travelling from Aceh to Papua.'
Wiratraman is now an assistant professor at the law faculty at Universitas Gadjah Mada and works for the Indonesian Caucus for Academic Freedom, a collective of students and researchers who are calling for more academic freedom. 'The other academics and I developed the Surabaya Principles on Academic Freedom.' Important steps have since been taken to enshrine these principles in law and hundreds of academics have joined the Indonesian Caucus for Academic Freedom, Wiratraman proudly explains. 'The inspiration for the principles came from my time in Leiden. I saw students there having a fierce debate about Geert Wilders and a PhD candidate in a debate with the then dean of the law faculty. It was really interesting. The big hall in the Kamerlingh Onnes building was packed to the rafters. It shows what a safe place Leiden is for academic freedom.'
Wiratraman is meeting 'old friends' again at the dinner. 'Since my PhD I've always kept in touch with researchers from Leiden. We do a lot of research together. I work with Professor Adriaan Bedner and have just received an International Credit Mobility grant to come to Leiden next year. The ties with Leiden mean a lot to me. I can feel them this evening.'
Alumni meeting in Jakarta

Alumni meeting in Jakarta

Alumni meeting in Jakarta
Aninda Wibowo
Wiratraman is not the only alumnus at the dinner in Yogyakarta who wants to return to Leiden. Aninda Wibowo, who did a two-year master's in biology in Leiden, has come tonight mainly to see her former supervisor, Professor Paul Keßler, again. 'I want to return to Leiden to do a PhD. I discussed it with him. That will hopefully happen at the start of next year.'
Wibowo chose to do a master's at the Institute of Biology Leiden (IBL). 'They had a number of specific courses that I was interested in. And I wanted to improve my research skills for my career in Indonesia.' Wibowo works for BRIN, the Indonesian national research and innovation agency, and specialises in the biosystematics of orchids. 'I had an amazing time in Leiden. I have a diverse group of friends from my master's and we still keep in touch.'
Gustaaf Reerink
Gustaaf Reerink has seen several old acquaintances at the alumni dinner in Jakarta, on the grounds of the Dutch Embassy. 'It's really nice to see my supervisor again, and I just spoke to several former classmates', says Gustaaf, a lawyer who has lived and worked in Jakarta for over ten years.
He started his law degree in 1997 and soon wanted to study a language alongside. 'I was considering languages like French or Japanese. But I had just been on holiday to Indonesia, which is how I ended up learning Indonesian.'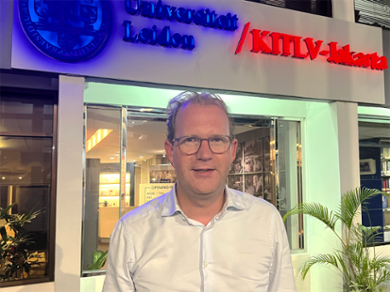 Reerink has fond memories of his student house on 't Gangetje. 'It was a fantastic place. There were six of us lads and it was a kind of training institution at the same time. It was a special house with unique individuals. Everyone did their own thing but we were a real household together. We often ate together and were always discussing politics. I was more left wing at the time but other housemates were really right wing. We always had long discussions. You learn so much from them. I still speak to most of them regularly.'
Reerink is currently working at a law firm that helps foreign investors who want to start or buy a company in Jakarta. 'I speak the language and am a Dutch lawyer, which makes me a bit of a rarity. There's still a lot of Dutch law in Indonesia, a remnant of the colonial period.' Reerink sometimes also has clients via the Dutch Embassy, such as Dutch citizens who are in difficulty and need help. 'I still benefit every day from what I learned in Leiden.'
Text: Tom Janssen